Japan unveils floating wind farm off the coast of the defunct Fukushima
Thursday, November 14th 2013 - 19:09 UTC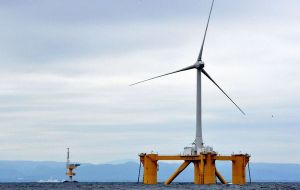 Japan unveiled a new wind farm off the coast of Fukushima last week. Only thirteen miles offshore from the Fukushima Daichi nuclear power station, the same nuclear station that notoriously attracted the world's attention during the 2011 Japanese tsunami, the new wind farm is expected to produce upwards of one gigawatt from 143 wind turbines. For comparison, the now-inoperable Fukushima Daichi nuclear power plant could provide 4.4 gigawatts.
Marubeni Corp, one of the trading houses leading the project - which is funded by the government - hopes that the move will be a bellwether to promote wind power along other parts of Japan's coastlines. Japan's wind energy potential is predicted to be 1,570 gigawatts or five times the current national electricity output.
The turbines themselves are floating turbines and tethered to the seafloor by 400 foot long cables. One of the challenges facing Japan in their quest to create an offshore wind farm is the challenging ocean depths around the country. Whereas other countries that are powered by offshore wind turbines have shallow, sloping continental shelves, Japan is located in the "ring of fire" and is adjacent to undersea trenches caused by subduction zones.
These subduction zones are also responsible for the seismic activity that triggered the magnitude 9 earthquake on March 11, 2011 which caused all 50 of Fukushima's nuclear reactors to become inoperable. Opposition to nuclear power is strong in the country and efforts to phase out the energy source are in effect.
On November 1st, Japan also opened the country's largest solar energy project on the southern Japanese island of Kyushu. The project, which cost 280 million dollars, has a capacity of 70 megawatts and is expected to power 22,000 Japanese homes on the island.