UK becomes observer of the Pacific Alliance, announces Chilean foreign minister
Thursday, November 14th 2013 - 19:58 UTC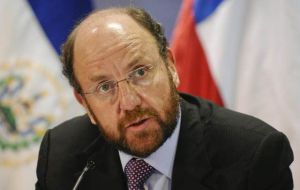 Chilean Foreign Affairs Minister Alfredo Moreno has said that the UK has been granted Observer Status of the Pacific Alliance. The announcement was made by Moreno during his recent visit to Europe. The Pacific Alliance is made up of Chile, Peru, Colombia and Mexico and is consolidating as the fastest growing group in the region.
On the occasion of this announcement, Jon Benjamin, British Ambassador to Chile praised the alliance and said it was 'excellent news'.
"We are thankful to Chile, and the other Pacific Alliance countries, for this opportunity. The UK has been watching the development of the initiative with interest, and appreciates the focus of the Pacific Alliance on economic integration and promotion of free trade, values which are central to the UK's economic and foreign policy and are reflected in our strong desire to strengthen our ties with Latin America". said Ambassador Benjamin.
He added the UK is looking forward to working with the Pacific Alliance partners and as a first step, next month "we will be organizing a promotional event on the Pacific Alliance in London, hosted by British Minister of State for Latin America, Hugo Swire".
The alliance originally with four members has now incorporated a fifth, Costa Rica, with Panama in the process of joining. Several other countries have observer status, Dominican Republic, Ecuador, El Salvador, France, Honduras, Paraguay, Portugal and Uruguay, plus now the UK.
Canada has expressed an interest in the Pacific Alliance and so has US Vice-president Biden during a recent visit to the region. Japan, Australia and New Zealand are also watching events closely.
In a recent statement IMF chief Christine Lagarde praised Pacific alliance founding members as the countries with greater expansion opportunities.
"I'd say that those countries that apply macroeconomic solid policies, that have the fiscal situation under control, that are involved in structural reforms which will help them take advantage of their potential are the most promising in the region and I would mention Mexico, Chile and Colombia and Peru", said Ms Lagarde.
The alliance has a population of 210 million and a GDP of 1.99 trillion dollars, equivalent to 35% of Latam. Exports account for 55% of all of Latam's sales abroad.