Uruguay and US reach sanitary agreement on boneless lamb, beef, offal and live cattle
Thursday, November 14th 2013 - 18:07 UTC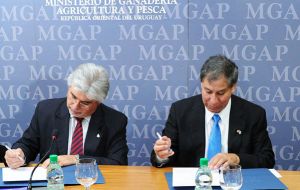 Boneless and matured lamb and mutton from Uruguay will have access to the United States market as of next 29 November. The announcement was made in Montevideo by visiting US Agriculture Under Secretary Edward Avalos, following its publication in the US Federal Registry and means the conclusion of nine years of negotiations.
"This is great news for Uruguayan farmers and the meat industry not only because it's another market but because with the US certification it will facilitate access to other markets", said Jose Costa, president of Uruguay's Meat industry association Adifu.
This also means that Uruguay joins the exclusive club of countries with lamb access to the United States, Australia and New Zealand. Contrary to what happens with beef, there are no quotas in the US for lamb and mutton.
At the ceremony making the announcement Uruguay's Agriculture and Livestock minister Tabare Aguerre handed to the US delegate Avalos the formal request for lamb and mutton with bone to be included in the list of access to the US market. The United States has very strict regulations regarding the import of meat cuts with bone, and Uruguay is free of foot and mouth disease but with vaccination.
Avalos also revealed that the US is interested in selling live cattle, meat cuts and offal, mainly sweetbreads for which there is a strong demand in Uruguay. The US top official said sanitary negotiations are on course and he is hopeful that quite soon the Uruguayan market opens for that produce.
"We have the commitment from our Uruguayan friends on that issue", said Avalos, who added another item in the negotiation list is chicken meat.
Aguerre said that Uruguayan sanitary teams had finalized their auditing of the chicken industry in the US to assess risks and promised a resolution in the near future.
"We've been talking with Minister Aguerre and I'm sure they will accept our protocols so that we can export these produce to Uruguay (beef, offal, live cattle and chicken meat)" said Avalos. "I'm sure we can advance on these issues. Trust will help us to move ahead in other issues".
The US market absorbs 600 million dollars of ovine meat annually but only 100 million is boneless since Australia and New Zealand export with bone.
Minister Aguerre on making the announcement said it has been a good week for Uruguay: not only because of the US opening but earlier Chile had also informed that lamb and mutton with bone are now free to access the Andean market.
US beef imports should not come as a surprise since Uruguay already buys beef and pork from neighboring Brazil, as part of a greater trade agreement. Uruguayan beef sells in international markets 15% dearer than its Brazilian counterpart, and the Brazilian produce helps with consumer prices in Uruguay.