Uruguay complains at Mercosur against Argentine resolution limiting ports' transshipments
Thursday, November 14th 2013 - 18:40 UTC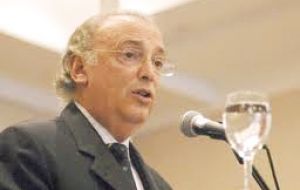 Uruguay made a formal complaint against Argentina before Mercosur regarding the administration of President Cristina Fernandez decision banning Argentine exports from transshipment in Uruguayan ports. The complaint was filed on Wednesday in Caracas at Subgroup 5 which addresses Mercosur maritime transport by Uruguay's Deputy Transport minister Pablo Genta.
Mario Baubeta president of Uruguay's Navigation Centre, which brings together mostly maritime agencies and port logistic companies said the Argentine delegation was not present when the complaint was filed and anticipated Uruguay will only sign the Mercosur multilateral agreement on maritime transport "if cargos with international transshipment purpose from or to third countries are excluded".
At the end of October Argentina's Ports and Waterways announced that "all those export cargos originating in Argentine ports, can only be transferred to other ports of national jurisdiction or from Mercosur member states and associate members that have standing accords on maritime transport with Argentina".
The resolution was directly targeted to Uruguay since Brazil is the only country where Argentine exports can be transshipped, based on the accord.
Montevideo port operators estimate that the resolution from the government of President Cristina Fernandez could reduce 25% the terminal's activities which in money terms represents an annual loss of 100 million dollars. An estimated 150 calls of container vessels, both regional and trans-oceanic will be affected. The Argentine decision openly favors Buenos Aires and La Plata terminals.
In support of Uruguay, the Argentine Chamber of Exporters requested the Argentine government to reconsider and 'suspend' the decision banning transshipment in Uruguayan ports, since this generates additional costs and hurts the country's 'competitiveness'.
The Belgian government representation in Montevideo said that Brussels was "highly concerned" with Argentina's decision affecting the local port. But Belgium has yet to make a formal presentation because the incoming ambassador before Argentina, Uruguay and Paraguay, has not arrived.
The Belgian corporation Katoen Natie owns 80% of Terminal Cuenca del Plata and manages most transshipments in Montevideo, could lose up to 25% of its turnover as a consequence of the Argentine decision.
Uruguayan exporters also fear that less traffic in the port of Montevideo means less vessels, less competition and dearer freight charges.
"Freight will become scarcer, dearer and with more delays" warned Alvaro Queijo, head of Uruguay's exporters union. "The alternative is Rio Grande in Brazil but that is too distant and costs will soar".