Falklands new legislative pledges more transparency and communications with the public
Saturday, November 16th 2013 - 07:02 UTC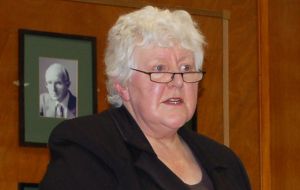 The recently elected Falkland Islands Legislative Assembly, the first to be full-time is breaking ground and has announced several changes to its functioning basically more transparency, televised sessions, showing how decisions are reached on key issues and MLAs views, and for this has decided to name two small working groups.
A first group will work on how to implement and elaborate on the details of all these initiatives, and a second will address how to communicate with the public and explain the decision making process.
Finally looking ahead the new members of the Legislative Assembly want to ensure a strong political system, ("long after we have left office") to help ensure that as many people as possible stand for election in four years' time.
The assembly will also have a three-month rotating Chair that will act as spokesperson for the legislative.
These ideas are displayed in a release made public on Friday, as follows:
"Since being elected to the Assembly on the 7th November, as a team we have taken some time to discuss the way in which we would like to work over the coming four years. Things will evolve and adapt over the coming weeks as we settle into being the first full-time group of MLAs. However, the following changes have already been agreed:
At a high level we have agreed that we shall strive to exercise more scrutiny of policy decisions and make our individual views known publicly. We are independent candidates and will act as such where appropriate; but we will obviously work with colleagues on policy where needed.
We have agreed to stop General Purposes Committee. In its place, MLAs will meet to discuss Executive Council papers before ExCo meetings and will hold weekly MLA meetings to discuss portfolios and matters raised by the public.
We will review how Legislative Assembly meetings operate. We intend to introduce more open debate and discussion on strategic matters during these meetings. The public will then be able to hear how decisions are reached on key policies, and also hear MLA's views.
We also intend to ensure that the Assembly is televised and that this coverage is available widely across the Islands. To work through the practical details, a small working group has been formed. This group includes MLA Barry Elsby, MLA Michael Poole and MLA Mike Summers, and it shall consult with the Speaker and encourages input from the public on this issue.
To ensure that the views of the public are accounted for throughout our term in the Assembly, we have also formed a small working group to review the structure and format of how we communicate with the public. This shall include, amongst other things, looking at how public meetings work, how we utilize the media, how we publish papers promptly with decisions, and so on.
This group currently comprises MLA Roger Edwards, MLA Phyl Rendell and MLA Gavin Short and also encourages input from the public on these issues.
Finally, we are conscious that we have an obligation to potential Assembly Members of the future.
We want to ensure a strong political system long after we have left office. To this end, we shall look to continue much of the work commenced in the Roles & Remuneration Committee report. A number of these items need more thought and discussion to help ensure that as many people as possible stand for election in four years' time, especially from Camp.
In terms of our internal structure, we have agreed to have a three monthly revolving 'Chair' of the Assembly. This Chair shall keep us on track whilst also being a public spokesperson for the Assembly throughout their term. Each Assembly member shall have two three month periods as Chair during this Assembly. MLA Jan Cheek is the interim Chair until 1 January 2014".