Cristina Fernandez reshuffles cabinet and names new economic team
Tuesday, November 19th 2013 - 07:22 UTC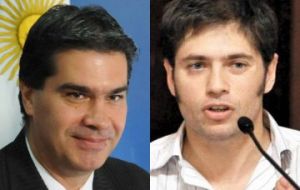 The administration of Argentine President Cristina Fernández announced on Monday a major cabinet reshuffle naming Chaco governor Jorge Capitanich as new cabinet chief and Axel Kicillof Economy minister while the Central bank will have a new president, Carlos Fabrega.
The evening announcement by presidential spokesperson Alfredo Scoccimarro from Government House, Casa Rosada took place two hours after President Cristina Fernandez reassumed executive powers following 45 days absence on medical leave.
New cabinet chief Chaco governor Capitanich is rewarded for a strong poll performance at the 27 October mid-term elections and Axel Kicillof is promoted from Deputy to Economy Minister, while the current incumbent Hernán Lorenzino will head a task-force charged with restructuring Argentina's foreign debt and will also be proposed as ambassador to the European Union.
The other changes include the naming of Carlos Fabrega, the chief of Banco Nación, (a national development bank) as the new head of the Central Bank in replacement of Mercedes Marcó del Pont, while INTA (Agriculture Technology Institute) president Carlos Casamiquela will take over as Minister of Agriculture. Outgoing minister Norberto Yahuar was defeated on 27 October in his Chubut province and had advanced his resignation 8 November.
Together with the naming of Capitanich who has presidential ambitions and is considered as one of Cristina Fernandez possible candidates to succeed her in 2015, the other big announcement is Kicillof, the unorthodox economist (described as a blend of Keynes with Marx), supporter of strong government intervention in the economy and who has been the brains behind some of the latest measures. He has for months insistently proposed a more flexible money exchange market including the establishment of several exchange rates for different activities. Basically a dearer dollar for tourism and imports of luxury goods.
The rapid erosion of Central bank international reserves because of the energy bill and massive tourism by Argentines travelling abroad added to reluctance from exporters to sell their dollars given the 70% gap between the official and parallel markets, has become the main challenge for the dollar-scarce Cristina Fernandez administration.
Marcó del Pont at the central bank in recent months was losing influence to Kicillof, and was contrary to monetary policy changes. Likewise she admitted publicly that persistent inflation in Argentina (below two digits official and over 25% according to the Congress index) was too high and had "to converge to a lower index".
Besides the central bank reserves are below 33bn dollars and so far this year the hemorrhage is equivalent to 11bn dollars.
The new cabinet inauguration is scheduled for next Wednesday.