Falklands' delegation to Overseas Territories conferences in London and Brussels
Wednesday, November 20th 2013 - 04:48 UTC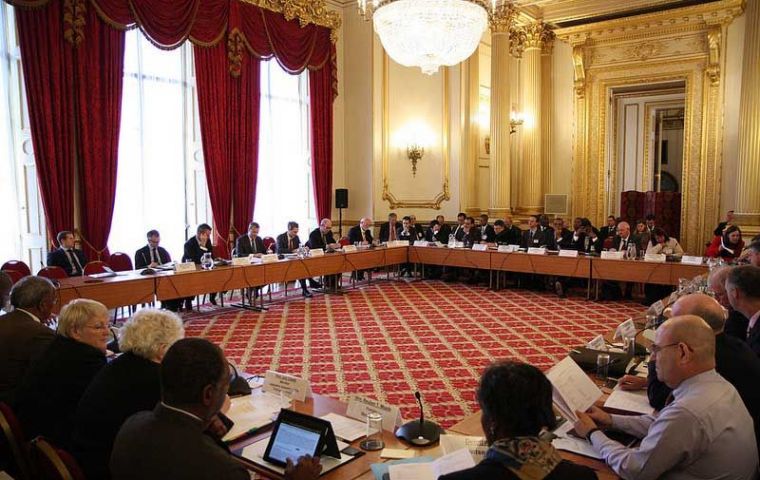 Two Falkland Islands Members of the Legislative Assembly, Roger Edwards and Ian Hansen will be attending the second annual Overseas Territories Joint Ministerial Conference (JMC) in London on the 25th of November 2013. The Falkland Islands' delegation will also include HE the Governor Nigel Haywood, Jamie Fotheringham (Head of Policy), and Sukey Cameron (UK Representative).
The JMC will bring together political leaders and representatives from all UK Overseas Territories along with UK Government Ministers and provides a forum for the exchange of views on political and constitutional issues. The JMC aims to promote the security and good governance of the Territories as well as sustainable economic and social development.
The theme of this year's Council is "Jobs and Growth", with an agenda that covers a range of issues including economic diversification, employment, investment promotion, and training needs. In addition, a Business Event on the final day will introduce the overseas territories to potential investors who may be interested in the overseas territories as business destinations.
MLA Roger Edwards will then go on to attend the 12th Overseas Countries and Territories Association (OCTA) Conference during 3-6 December. The Conference is taking place in Brussels where leaders and representatives of territories associated with four different European Union (EU) Member States will meet to discuss issues of common interest, with a particular focus on how territories interact with the EU.
This year's discussions will centre on the new Overseas Association Decision – a document that sets out the relationship between the OCTs and the EU. The previous Decision (agreed in 2001) posed a number of problems for the Falkland Islands. The new agreement which is expected to come into force from the 1st January 2014 will, if ratified by the EU, simplify trading arrangements with the EU by the removal of the current restrictions on crewing requirements for Falklands-owned fishing vessels and the removal of import quotas for fish products originating in the Islands.