U.S. and Europe talks advance towards liberalizing bilateral trade
Wednesday, November 20th 2013 - 05:16 UTC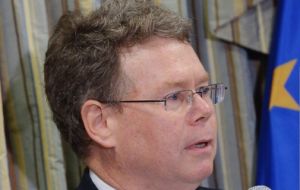 A week of trade talks in Brussels have taken the European Union and the United States a little closer to a deal to liberalize bilateral trade. EU officials say the trade relationship with the US is already the biggest in the world, worth more than 2bn Euros a day, but barriers remain, and removing them could make it even bigger. If it happens, the agreement would be huge, capable of changing the shape of global trade.
Trade talks are never quick and easy. They can be fiendishly technical and contentious politically. They are also wide ranging - the great cliché of trade negotiations is: "Nothing is agreed until everything is agreed." But there is clearly a political will on both sides of the Atlantic to make it work.
Both parties to the talks believe there are significant economic gains to be made from reducing trade barriers. A study for the European Commission estimated the combined gains for Europe and the US at more than 300bn Euros a year. A whole range of trade barriers are under the microscope in these talks.
Much of what they are discussing is regulation. Up to 80% of the gains could come from this area. This is not just about unnecessary red tape that can simply be removed, though there may be some of that.
The problem is that businesses often have to comply with two sets of regulation if they want to sell goods in both markets. That means all the associated costs have to be paid twice over.
The regulations often have the same objective - frequently safety. There are different rules, for example, on car lights and door locks and many other components. If they mean the same level of safety then in principle each side could accept anything that has met the other's standards.
That idea - "mutual recognition" as it's called - is one of the key features of the EU's own internal market that eases trade between EU countries. There are some areas where mutual recognition will be a political minefield.
Genetically modified (GM) food is the obvious case, where Europe takes a very skeptical approach to allowing new examples to be sold. It is a very unwelcome barrier to exports as far as American farmers are concerned.GM wasn't even discussed this last week according to the negotiators. It will be tough when they do.
There are concerns that regulatory reform might lead to the lowest level protection becoming the standard - "harmonizing down" as it has been called. The environmental group Friends of the Earth has said the result of the negotiations could be "a dangerous deregulation of environmental and public health safeguards".
The lead negotiators from both sides insisted that would not happen.
After the Brussels talks, the chief US negotiator Dan Mullaney said: "Nothing we do to reduce unnecessary regulatory barriers will undermine the high standards of public health and safety and environmental and consumer protection that citizens on both sides on the Atlantic expect and enjoy."
Another type of barrier to trade is tariffs, taxes that apply only to imported goods. Technically they are relatively easy to deal with - you can simply cut them. But politically it is more difficult as there will often be objections from industries and workers that lose protection.
In this case the potential gains are limited because average tariffs imposed by the US and the EU are already relatively low. There are exceptions for some types of goods, but that is the general picture for these two trade powers.
These negotiations continue a pattern in international trade in which countries have increasingly sought to free up trade bilaterally or among small groups. It is in part a response to the lack of progress in global talks at the World Trade Organization.