Brazil's unemployment drops to 5.2% in October unaffected by weak economic performance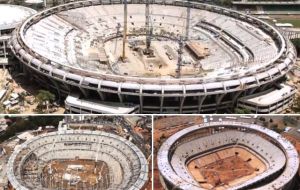 Brazil's jobless rate fell to 5.2% in October from 5.4% the previous month, despite sluggish economic growth, official statistics released Thursday showed. In October of 2012, the rate stood at 5.3%, according to the Brazilian Institute of Geography and Statistics (IBGE). Brazil experienced record low unemployment of 4.6% last December.
Analysts noted that the employment picture appeared unaffected by Brazilians' lower consumption and the country's weak economic growth.
The economy grew an anemic 0.9% in 2012; the government hopes growth will reach 2.5% this year
Brazil, the world's seventh largest economy, is spending billions of dollars to upgrade its creaking infrastructure and build or renovate facilities that will host the 2014 World Cup and 2016 Rio summer Olympics.
The IMF has recommended Brazil begins to dismount the aggressive fiscal and monetary policies implemented during the last two years to prop the low performing economy.