Capitanich ratifies 'model' and pledges conditions to promote 'productive investments'
Thursday, November 21st 2013 - 15:02 UTC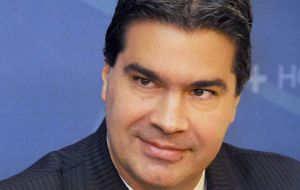 Argentina's newly appointed Cabinet Chief Jorge Capitanich told reporters Thursday morning at the Casa Rosada that the government of President Cristina Fernandez will "generate conditions to deepen the model," which means "to boost economic growth and employment opportunities, increase exports and create conditions for private and public investment."
He added "many Argentines need the State, so we need sustainable financing."
In his first press conference as Cabinet Chief, he stated the government will seek to increase the Central Bank reserves.
"We will protect our reserves," he stressed. "The government will seek coherence among the fiscal, monetary and exchange policies," he went on and assured the "administered flotation" system will continue although he implied the use of dollars will be restricted for unnecessary expenses like "luxurious cars."
"It's much more important to assign dollars to productive investment rather than to buy a luxurious car, which will only satisfy one sector of the society."
Regarding the government's much questioned stats office, the INDEC agency, he assured a new inflation measuring methodology is being prepared and the new index will be published in the first quarter of 2014.
"We will meet goals with a range of instruments. We won't make pompous announcements, but instead we will give conditions of stability," he said.
In a clear shift in the Kirchnerite administration's mode towards the press, Capitanich announced he is willing to hold daily talks with the media, "early" at the Government House.
"If you wish to have that dialogue, we, with pleasure, will have it. But earlier," Capitaniche warned to reporters. A dialogue with the press "is part of the message we want to give all Argentines," he emphasized.
Asked about his personal and political aspirations for 2015, Capitanich assured he will work "without personal or political aspirations," adding his mission is to "meet the goals" set by the government for the next two years.
When his nomination the governor of Chaco 'on leave' received praise from the opposition as a 'man of dialogue' and good administrator.
Radical Party elected lawmaker and former vice-president during Cristina Fernandez first administration Julio Cobos applauded the decision by Capitanich to hold regular press conferences with media and meetings with provincial governors.
"It is important because we were used to no press conferences. I celebrate the attitude of the cabinet chief. It is a good start," Cobos said after the newly appointed head of ministers addressed reporters.
Capitanich, governor of the Chaco province who gave Kirchnerism a resounding victory in October's midterms, also promised a "permanent interaction with the Congress."