Dengue emergency in Brazil: 573 deaths so far this year says Health ministry
Thursday, November 21st 2013 - 19:02 UTC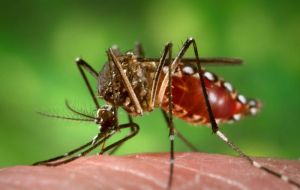 At least 573 people have died from dengue in Brazil so far this year, nearly twice the figure reported in 2012, according to official figures released Wednesday. Last year, 292 deaths were recorded and 473 in 2011, according to the health ministry.
The highest death toll was in the southeastern state of Minas Gerais (116), followed by Sao Paulo state (72), Goias (58), Ceara in the northeast (54) and Rio de Janeiro state (48).
The total number of serious cases reported so far this year reached 6,566, leading authorities in 157 cities to declare a state of alert, including in Rio, Manaus, Salvador and Fortaleza, host cities for next year's World Cup. However authorities believe that the number of people infected with the disease could be over a million.
Brazil is frequently afflicted with the disease, which is caused by four strains of the virus that are spread by the mosquito Aedes aegypti.
Dengue affects between 50 and 100 million people in the tropics and subtropics each year, causing fever, muscle and joint ache as well as potentially fatal dengue hemorrhagic fever and dengue shock syndrome.
There is no vaccine, which is why scientists are focusing so intensely on mosquito control.
But last month, Brazilian scientists began clinical tests on humans of a new vaccine against the four strains of the dengue virus.