Santos announces re-election bid, with the help from Farc and the peace process
Thursday, November 21st 2013 - 14:55 UTC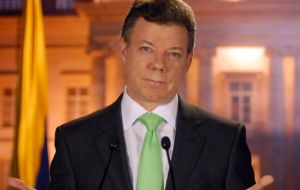 Colombian President Juan Manuel Santos announced he would seek a second term in office next May, a widely expected decision that could offer him another four years to pursue a peace process he initiated with Marxist FARC rebels."I want a Colombia that is at peace and prosperous for all," Santos said in an address to the nation.
"When you see the light at the end of the tunnel, you do not turn around and run the other way," the president said. "I am convinced that we have before us a great chance to achieve a Colombia that is at peace," he said. "And my duty as president ... is not to allow everything that we have achieved in the peace process to be lost."
Santos, 62, a Harvard-educated journalist and son of one of Colombia's most influential families, will take on opposition candidate Oscar Ivan Zuluaga in a campaign likely to focus on how peace with the rebels would transform Colombian society after five decades of war.
Neither candidate is likely to upset investors as both are former finance ministers and seen as market friendly. Economic growth has slowed in the last year on the back of weak overseas demand for local industrial goods but output is expected to pick up in the coming months, and provide a boost to Santos.
Still, Zuluaga, a one-time senator and provincial mayor, charges that FARC negotiations have damaged the 360 billion dollars economy. He accuses Santos of offering the rebels too many concessions and pushing talks so as to enter the history books.
Santos began negotiations with the Revolutionary Armed Forces of Colombia (FARC) a year ago. The talks are set to resume November 28, after a 10-day postponement.
The talks had been scheduled to resume Monday to take on the third agenda item, illegal drug trafficking, which the FARC is alleged to have abetted to finance their operations.
So far the negotiations have resolved two of the five key points on the agenda and the two sides must also still resolve questions on compensation for victims and on disarmament.
The half-century old guerrilla war -- Latin America's longest-running insurgency -- has left hundreds of thousands of dead and displaced more than 4.5 million people.
Santos won the presidency with the support of his predecessor Alvaro Uribe. Now, Uribe has become one of his staunchest critics, and opponent of the peace talks.
Santos's current term ends August 7, 2014. The first round of the presidential vote is in May 2014.