"Excellent relations with UK" but "tough controls on Gibraltar" announced Rajoy
Friday, November 22nd 2013 - 20:21 UTC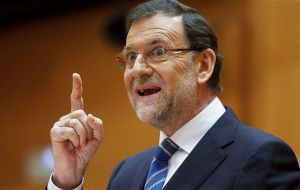 Spain's President Mariano Rajoy has declared his intent to sustain both good relations with Britain and tough controls on Gibraltar at the border. The remarks came in an interview with Radio Nacional de España in which he defended Spain's attitude to Gibraltar.
"Relations between the United Kingdom and Spain are excellent. Excellent," he declared. "Since I have been president of the government I have met on various occasions with Mr Cameron. Either he has been in Spain or I have been in London as well as seeing each other regularly at the council meetings in Brussels. We have talked about this issue and there is no reason that this issue should be an obstacle to the relationship between the UK and Spain. As far as I am concerned that is not going to happen."
But Rajoy added that beyond that relationship the European Commission has just been in Gibraltar. "The EC has just said that the controls that Spain carries out at the 'gate' are correct. Something we already knew but the EC has just said. It has also said that there is smuggling in Gibraltar, a lot of smuggling".
"Gibraltar is a tax haven. Gibraltar is acting against the environment. These are things that we cannot accept. And we are not going to accept them. We have already formally complained to the EC on the environment and on fiscal matters and we are going to control the smuggling between Gibraltar and la Linea," he said.
Rajoy declined to comment on the calling in of the Spanish ambassador by the Foreign Office in London and said that he is focused on a good relationship with the British "and that is how it will be."
"But my duty is also to defend the interests of the Spanish and that is also how it is going to be."
Meanwhile, Minister for Foreign Affairs, José Manuel García- Margallo said he is "very satisfied" with the work performed by his ambassador in London , Federico Trillo , in relation to Gibraltar.
"When I'm not [satisfied] I usually change the ambassador, which I have not done," Garcia-Margallo said. He told reporters that " Gibraltar affairs are going well " and stressed that relations between Spain and the UK reflect that they are "friends" who are partners in the European Union and NATO and must move in the context of "dialogue" and "legality" .
On Wednesday Spain's Defense Minister Peter Morenés, commenting on the latest incidents in the Bay of Gibraltar, declared that "we have not been in waters that we do not consider anything other than Spanish", adding "so we have no conflict as far as we are concerned."
Minister of Agriculture Miguel Arias Cañete said he cannot understand "that a Member State of the European Union , like the United Kingdom, would "hamper" the work done by Spain to check water quality at a Special Conservation Area waters that are " Spanish" next to the Rock of Gibraltar.