Fossils in south Chile reveal close interaction with once connected Antarctica
Monday, November 25th 2013 - 19:33 UTC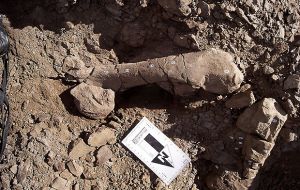 Three years of study in Patagonia have produced what researchers describe as most important paleontological findings in Chile in the last 10 years. The discovery of leaf and dinosaur fossils in South America has revealed the continent was connected to Antarctica 20 million years more recently than previously believed.
Around 600 million years ago, South America was joined to Antarctica, Australia, Africa and Asia in the supercontinent Gondwana. At that time, Antarctica was not the home of snow and ice which it is today. It was a fertile landmass which allowed the terrestrial migration of dinosaurs and plants to today's continents.
It was previously thought that 85-90 million years ago, when the supercontinent separated into land masses, South America split from Gondwana. However, 11 Chilean researchers have found proof that the two continents were connected around 20 million years later, at the end of the Cretaceous Period, when the mass extinction of dinosaurs occurred.
In February of this year, 11 researchers found a bone bed of hundreds of pieces of dinosaur bone and skull in the Última Esperanza Province, Magallanes Region, close to the southern Argentinean border — the largest findings of dinosaur fossils in Chile.
"It gives you shivers down your spine and a real feeling of happiness to come across something so old," Marcelo Leppe, paleontologist and manager of the science department of the Chilean Antarctic Institute (INACHI), told The Santiago Times.
This area is the most southern place in South America where dinosaur fossils have ever been found and the discovery has proven the existence of land bridging the continent with Antarctica towards the end of the dinosaur era.
"We knew that South America and Antarctica were once connected in the past. What we didn't know was at what point in time and in what way," Leppe told The Santiago Times. "It was known that they were connected in the Turonian era around 85-90 million years ago. Now we know that also at the end of the dinosaur era there was another connection [of land] and this connection could help solve many of today's related mysteries."
These findings will now allow scientists to better understand the origins and evolution of nature since the Cretaceous period.
"This connection could explain many things that today remain unknown," Leppe said. "For example, marsupials known as monitos del monte (the little mountain monkey) live in the forests of Southern Chile, as well as other animals we know and understand to be typically South American, in reality would have their genesis in Antarctica."
The two types of dinosaur species identified by the research group were iguanodontia and hadrosaurus, a herbivore with over two thousand teeth and between eight to nine metres in length. Other species may yet be identified.
Along with the dinosaur bones, 34 different leaves identified as Nothofagus — a family of tree from which ten species can be found in modern day Chile. Textbooks in Chile say that this type of tree is no more than 50 million years old, however, the fossils found by these researchers were between 66 and 68 million years old.
"Given the seeds' intolerance to salt, this is strong proof of propagation via land between Antarctica and Patagonia," Leppe said.
The age of the leaves and their nature of propagation provides further proof that there was a connection of land between South America and Antarctica 66 million years ago. The Nothofagus family of trees occupies vast expanses of woodland in Southern Chile.
"Our hypothesis is that Nothofagus came from Antarctica to Chile, dominating the countryside up until today," Leppe stated in a press conference, Friday.
There were theories about such land bridges between South America and Antarctica but nothing provided concrete proof until these fossils were discovered.
Marcelo Leppe was among the 11 who went to Southern Chile for the investigation, along with David Rubilar, paleontologist of vertebrates at the National Museum of Natural History, and Alexander Vargas, professor of paleontology at the Universidad de Chile.
The project was financed by the Paleobiology Laboratory of Patagonia and Antarctica of INACH, the Institute of Earth Sciences at the Heidelberg University, the National Fund for Scientific and Technological Development (Fondecyt), and the researchers are currently working on a report in which they hope to publish their findings in the next few months.
Researchers describe their three-year investigation as the most important paleontological findings in Chile in the last 10 years.
By Benjamin Druttman - The Santiago Times