Magnitude 7.0 earthquake strikes in south Atlantic, 314 km SE from Falklands
Monday, November 25th 2013 - 15:24 UTC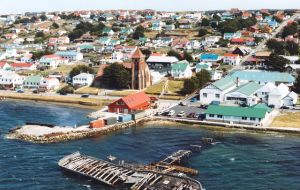 The U.S. Geological Survey says a powerful magnitude-7.0 earthquake has struck in the South Atlantic, southwest of the Falkland Islands. It says the quake struck at 2:27 a.m. Monday (0627 GMT), about 314 kilometres southeast of the Falklands' capital, Stanley, and 545 miles east of Ushuaia, Argentina. The depth was a shallow 10 kilometres.
The USGS says the quake followed four others that all measured more than 5.0, over a two-hour period leading up to the big quake. It says such quakes are uncommon in the region. Only 15 quakes of more than 5.0 had been measured in the region in the previous 40 years
There were no initial reports of damage or casualties.
The Hawaii-based Pacific Tsunami Warning Center issued a bulletin stating that, despite the power of the quake, "a destructive widespread tsunami threat does not exist.
"The Tsunami Warning Center however did say that there was a "small possibility of a local or regional tsunami" that could affect coastlines "located usually no more than a few hundred kilometers from the earthquake epicenter.
"The USGS initially said that it was a magnitude 6.6 earthquake, but later revised the quakes strength.