Tens of thousands turn out to the streets to protest Venezuela economic situation
Monday, November 25th 2013 - 08:03 UTC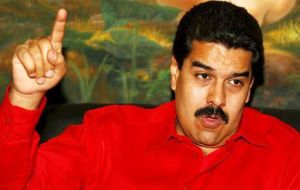 Tens of thousands of opposition supporters marched in Venezuela on Saturday to pressure President Nicolás Maduro's government before December 8 local elections after their leader denounced the pre-dawn arrest of an aide.
The vote for control of 335 municipalities will be the first big test of Maduro's political strength after he narrowly defeated his opposition rival, Henrique Capriles, to win a presidential election in April.
Capriles told the main rally in the capital his national tours coordinator, Alejandro Silva, was taken at gunpoint from a Caracas hotel room by military intelligence agents and that he held Maduro responsible for the aide's safety.
"Maduro, don't be a coward! You want to put me in prison, come for me! I'm not afraid," Capriles said to cheers from a crowd of 2,000 to 3,000 supporters, many wearing the blue, yellow and red of the Venezuelan flag.
With voters frustrated over surging inflation and product shortages, a major part of the government's strategy has been a theatrical confrontation with business leaders that echoes the style of Maduro's late mentor, Hugo Chávez.
The authorities have ordered businesses to slash prices and people have flooded shops to take advantage of discounted items ranging from car parts to electronics and sports shoes.
Maduro said a new foreign currency exchange mechanism would be unveiled tomorrow, but gave no other details.
Many people who marched with the opposition said Maduro's statist economic policies were the problem. "I'm not looking for home appliances," said Celide Romero, a 79-year-old protestor. "I've been looking for milk for the last month and a half, but there isn't any."
Competing with the opposition rallies for local media headlines over the weekend is the latest move in what Maduro calls an "economic offensive," with ministers leading inspection teams to check shopping malls nationwide.
The government charges that anyone who marched with the opposition was showing support for corrupt "speculators" who it blames for an annual inflation rate that neared 55% last month and a black market rate for dollars that has risen to some nine times the official level of 6.3 bolivars.