EU/US/UK ambassadors openly support Paraguayan prosecutors investigating corruption and abuse in Congress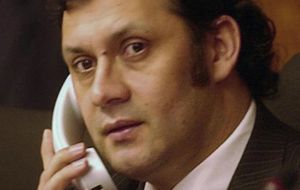 The United States, European Union and UK ambassadors in Asuncion openly expressed their support for Paraguay prosecutors that have been threatened by members of Congress because they insist in investigating lawmakers that are allegedly involved in corruption cases.
UK ambassador Jeremy Alexander Hobbs, Germany's Claude Robert Ellner who is also EU representative plus James Thessin from the US met at a restaurant with Chief Prosecutor Javier Diaz Veron, his deputy Carlos Arreguir, other members from the Anti-corruption Unity and a group of prosecutors who turned up to also express their support.
"We're here to host those who have shown the courage to investigate events in the upper house of Congress", said German ambassador and EU representative Ellner. "They have done it according to the rules, and what their jobs demand and that is why we are here" added the diplomat underlining the task displayed by the prosecutors that have been threatened by lawmakers for having requested that Senator Victor Bogado from the ruling party be stripped of his legislative privileges to face the investigation.
"We are here to support the transparency of the Justice system", added US ambassador James Thessin.
Chief prosecutor Diaz Veron said he was encouraged by the international acknowledgement for Paraguayan prosecutors and the way they are involved and dedicated to their responsibilities, and concluded that "no one is above the law".
Prosecutors discovered that Senator Bogado among other things had in his Senate office payroll his house maid and a former Miss Paraguay who figured as an image advisor. Both were paid 1.500 dollars each.
However when the issue came to light and was considered in the Senate floor, 23 of his peers from all parties voted to support him and thus as long as Bogado is in office he will be free from charges.
But Paraguayan public opinion reacted with indignation following events and the names of the 23 Senators were 'blacklisted' from restaurants and shops, where they have been politely requested to abandon the premises plus facing furious citizens in the streets. Similarly there have been a couple of marches and caravans through downtown Asuncion demanding that justice be complied.
Since then several Senators have stated publicly that they are repentant of having voted in support of their accused peer, but so far there have been no further reactions at the full house level.