Spain prepared to take UK to the EU Court of Justice over Gibraltar waters
Tuesday, November 26th 2013 - 20:34 UTC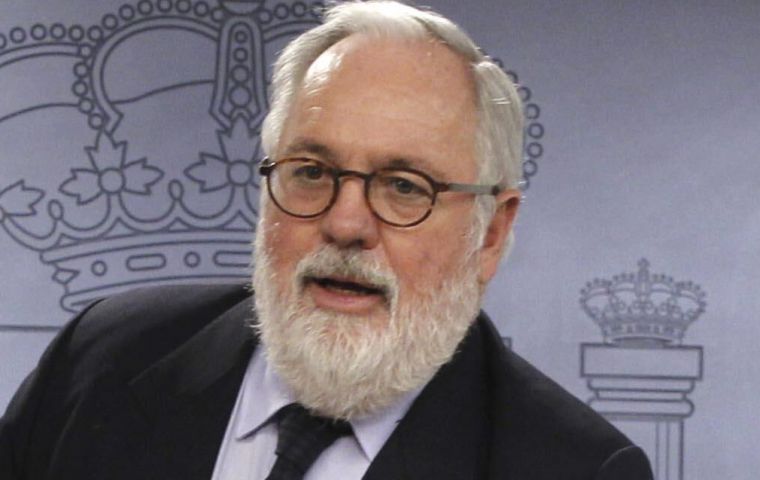 Spain's Minister for Agriculture, Food and the Environment, Miguel Arias Cañete, said Spain would take the UK to the European Court of Justice if the European Commission failed to take action over reclamation works in Gibraltar waters.
Arias said Spain, having complained to the Commission over reclamation projects and the "dumping" of concrete rocks, and now expected officials in Brussels to take action.
"We have made a complaint to the European Commission so that it takes the appropriate steps and in the event that it does not, Spain will resort to the European Union's Court of Justice," he said during a breakfast briefing with Spanish journalists.
Spain's position is that land reclamation and the creation of artificial reefs are prohibited in EU nature protected zones. Spain – with the blessing of the EC – has established an EU nature site in British Gibraltar territorial waters.
The Spanish site is not recognized by the UK and overlaps an existing British designation.
Arias also referred to the recent incursions by the Spanish research vessel Ramon Margalef and said the UK was unhappy that Spain was collecting water samples and marine data in the area.
The incursions by the research ship prompted the UK to summon Federico Trillo, Spain's ambassador to London, for a dressing down over the incident.
During the briefing, Arias repeated the Spanish position that the Treaty of Utrecht gave the UK no rights over the waters surrounding the Rock, an interpretation strongly rejected by Britain. Under the UN Convention on the Law of the Sea, the UK claims three miles of territorial sea around Gibraltar.