Uruguay hosts conference on strategies and response to cruise ship accidents
Tuesday, November 26th 2013 - 08:52 UTC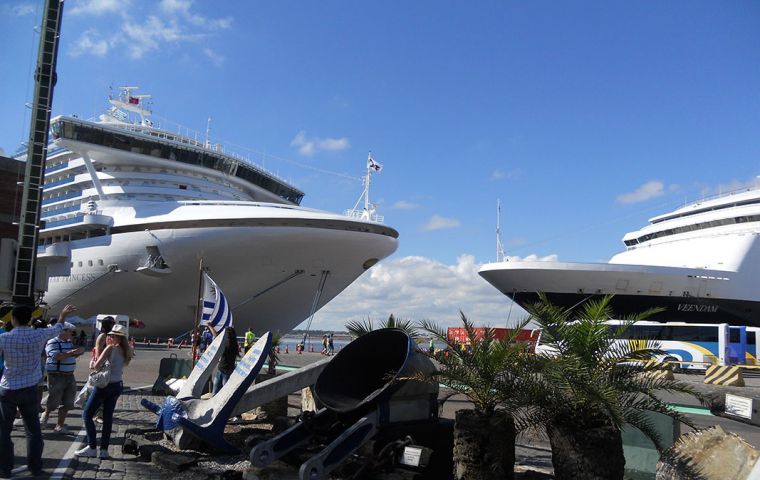 Uruguay hosted last week a conference and workshop on "tools and strategies to strengthen the response to cruise ship accidents". David Jardine-Smith, from the International Maritime Rescue Federation, and Roly McKie, HM Coastguard Staff Officer, Search and Rescue Operations, were the facilitators of the event.
The aim of the conference sponsored by the UK Foreign Office was to share knowledge and experience with Uruguay's National Emergency System (SINAE) and the wide range of Uruguayan organizations that would be involved in providing assistance in case of accidents, such as the Navy, Air Force, Fire and Police Departments, ADES and Health Services.
The workshop included a visit to a cruise ship in the Port of Montevideo. The Captain and the Security Chief described their emergency plans and explained the procedures in maritime search and rescue. This activity was highly valued by the participants and helped put their own plans in context.
During the closing session, held at the seat of Uruguay's Executive, Torre Ejecutiva, the participants agreed to continue working together to strengthen the current plans and protocols.
The cruise industry in a few years has become a significant contributor of Uruguay's economy with 240 calls anticipated for the 2013/14 season with an estimated 400.000 visitors between passengers and crew-members, plus the fact that it opens the country to many people who would never think of travelling to Uruguay.
"Many passengers arriving to Uruguay would not have come if it were not for the cruise vessels and since most of them enjoy their visit, they become 'ambassadors' opening the way for traditional tourism, business opportunities and even as a second residence", according to Uruguay's Antonio Carambula, Deputy Tourism minister.
Currently Uruguay has two ports of call for the cruise industry, Montevideo and Punta del Este and is planning a third option, Colonia.
"On several occasions during the season, up to three and four cruise vessels call on the same day at Punta del Este, where there is no terminal, and have to anchor in the protected bay of Maldonado.
In Montevideo port authorities are considering a proposal from Royal Caribbean to set up a specific cruise terminal, which would allow to dock more than three cruise vessels at the same time. The idea of the terminal also refers to use Montevideo as a passenger turnover point since the city also has good airport facilities.