"Capitalists speculate and steal, as we do" admits in a passionate slip Maduro
Wednesday, November 27th 2013 - 07:10 UTC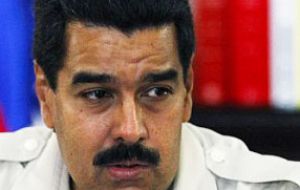 No end to Venezuelan president Nicolas Maduro oral bloopers. In campaign for the municipal elections of 8 December and in the midst of an economic war on big business of which it accuses of promoting inflation and destabilizing his government, a self confession or "sincericide" (a blend of sincerity and suicide) became the delight of social networks ant twitters.
In the midst of a fiery and passionate speech he said "capitalists speculate and steal as we do".
"I want to tell shop owners of this country, small and medium, these shop owners that you know so well from your neighborhood, they are also victims of capital, of the capitalists that speculate and steal, as we do...because they are squeezed by suppliers and wholesale people, and are also squashed by the big shopping malls, they are twice squeezed" said the Venezuelan leader.
The phrase immediately triggered a twitters' tsunami with the Chavistas arguing that what Maduro really said was that Chavism is a victim of speculators while on the opposite side, the anti-Chavists described it as a 'sincericide'.
This is not the first time (or by experience the last) of president Maduro extravagance with words.
Not so long ago and in reference to a passage of the Bible he pledged "we will look to get involved school by school, child by child, high school by high school, community by community so that we will multiply as Christ did the penis, sorry the fish and loafs, I'm sorry for the expression".