Cristina Fernandez meets top delegation of German chemistry and oil corporation
Wednesday, November 27th 2013 - 07:00 UTC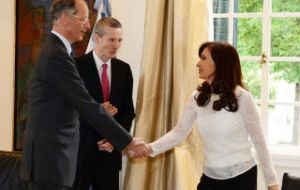 Argentine president Cristina Fernandez definitively abandoned strict mourning on Tuesday wearing a white blouse and black trousers in her first interview with foreign business people since her return to the job after 45 days of medical leave because of cranium surgery and cardio-vascular exams.
The Argentine Executive press office distributed pictures and videos of Cristina Fernandez meeting with German chemical global corporation BASF at her official residence in Olivos, in the outskirts of Buenos Aires.
Cristina Fernandez, 60, had already shown partial mourning in a video filmed by her daughter Florencia, when she returned to official duties following surgery on 8 October to drain cranium blood clots. She had been in strict mourning since the death of her husband and predecessor in the post Nestor Kirchner in October 2010.
The BASF delegation was made up of the corporation's president Kurt Bock; Andreas Kreimeyer, director for the Americas; Ralph Scweens, Director for South America; Claus Wunschmann, director for Argentina and the CEO of Winter Shall Energy Argentina, Gustavo Albrecht.
Also attending the meeting of Cristina Fernandez with the German delegation were cabinet chief Jorge Capitanich; Planning minister Julio De Vido and Economy minister Axel Kiciloff plus YPF CEO Miguel Galuccio.