Foreign Office complains to Spain search of a UK diplomatic bag at the Gibraltar border
Wednesday, November 27th 2013 - 16:10 UTC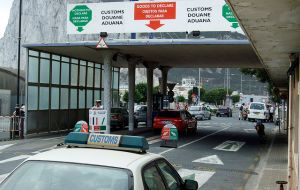 The British Government said Spain's decision to search a UK diplomatic bag at the border with Gibraltar was "a serious infringement" of international diplomatic protocol. In a statement, the Foreign & Commonwealth Office said it had called on the Spanish Government to look into the incident and ensure it was not repeated.
"This was a serious infringement of the Vienna Convention on Diplomatic Relations," a spokesman for the FCO in London said. "We take very seriously any reported abuse of the protocol surrounding use of the diplomatic bag."
"We have asked the Spanish authorities to investigate what occurred and take action to ensure it does not happen again" and as far "as we are concerned there is no justification for this infringement of the UK's rights under the Vienna Convention."
"Diplomatic bags are inviolable."
The statement came after the Gibraltar's Chronicle revealed that Guardia Civil officers last Friday opened and searched a British Government diplomatic bag as it was being transported by courier across the border from Gibraltar into Spain.
It is not clear what the bag contained or why it was being shipped across the land border. Neither is it clear why the Spanish authorities chose to interfere with the bag.
Sealed diplomatic bags are covered by international legal protections and are used to carry official correspondence or other items between a government and its diplomatic, consular or official entities.
"There are long-established and internationally-accepted Articles concerning use of the diplomatic bag to which the FCO adheres. We expect other parties to the Convention, including EU and NATO allies, to do the same", said the FCO spokesperson.