UK 'unreserved' support for Gibraltar's international sports: first football, now rugby
Wednesday, November 27th 2013 - 10:12 UTC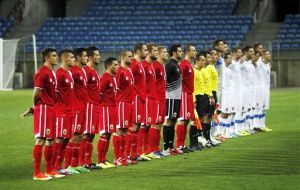 Britain's Secretary of State for Culture, Media and Sport, Maria Miller, has pledged her 'unreserved' support Gibraltar's international sporting ambitions. The backing for Gibraltar comes as the Gibraltar Rugby Football Union (GRFU) goes through the process of FIRA/AER (European Rugby Federation) membership after being previously rejected and blocked by Spain last July despite meeting the necessary criteria.
Miller made the comments in a letter to Desmond Reoch, the President of the Gibraltar Football Association, following Gibraltar's historic draw against Slovakia in its first international Uefa match.
"We are, as you will know, keen to support Gibraltar's international ambitions," she said in the letter, a copy of which was seen by the Gibraltar Chronicle.
"In other sports Gibraltar is struggling to get the international recognition it seeks and deserves, in part because of the approach, attitude and actions of European nations."
"It goes without saying I unreservedly back you and Gibraltar's case for recognition in international sport, whether that is in football, rugby union or in other sports."
Britain's Culture Secretary hailed the performance and 'Historic' occasion of Gibraltar's first friendly since being accepted by UEFA, which ended in a 0-0 draw against Slovakia, a team that qualified for the 2010 FIFA World Cup.
"A draw against Slovakia is a highly creditable result, given this was a team that qualified for the last World Cup, and it certainly augurs well for the future," Mrs Miller said.
"I know that grassroots and football development are at the heart of your plans as an Association and I am sure the English FA will be only too pleased to offer their expertise if they are able to."
She sent her best wishes and congratulations to the Gibraltar team, praising the tenacity of the players and adding that she "looks forward" to the occasion when Gibraltar will eventually meet one of the home nations during international duty.
Mr Reoch replied to the letter of support saying he was delighted to have received a letter from the Culture Secretary offering her support "and congratulating us on our first international in Portugal".
"She also told us that the English FA will support her party and the GFA on any issues in the future, whether it's to do with football or politics" revealed Reoch and added: "I too am also looking forward to playing one of the home nations in the near future".