Brazil auctions concession of highway that transports 45 million tons of grains annually
Thursday, November 28th 2013 - 11:40 UTC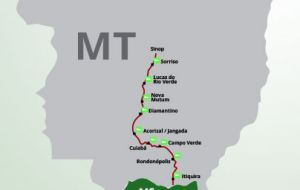 Brazilian construction giant Odebrecht on Wednesday was awarded a 30-year concession to operate and maintain a stretch of the BR-163 federal highway, a major road in the western state of Mato Grosso, also known as 'soy road' because of the millions of tons of grains and oilseeds that are transported annually.
Odebrecht offered a toll of $1.14 per 100 kilometers, or less than half the maximum of 2.50 per 100 kilometers established by the government. The winning bidder also pledged to invest 3.6 billion Reais (1.64bn dollars) in the 850.9-kilometer highway.
The stretch of road begins at the border between the states of Mato Grosso and Mato Grosso do Sul and ends at the intersection with the MT-220 regional highway in the city of Sinop.
Mato Grosso in the heartland of Brazil next to Paraguay and Bolivia is one of the fastest growing states in the union based on agriculture and livestock and provides 25% of the country's grains and oilseed production. About 20 million tons of grains and 25 million of soy are transported on the BR-163 annually, according to land transport regulator ANTT.
BR-163 also leads north to Amazon River ports in Para state and could open a long-sought northern export route for the country's farm sector.
President Rousseff is betting that infrastructure concessions will draw investment, speed products to market, and prop the flagging economy. The program has suffered repeated revisions and false starts, including a delay of one road auction and another that lured no bidders.
The award on Tuesday follows an auction last week of two airports, in which one winning group bid nearly four times the minimum, totaling over nine billion dollars.
According to the Department of transport infrastructure of Brazil's 70,860 kilometers of federal highway, 18% are unpaved and its highway system ranks 120th among 148 nations in the World Economic Forum latest Global Competitiveness Report. Brazil's road conditions add an average 25% to transporters' operational costs, according to the National Transport Confederation.