Gol airlines admits it's on the brink because of Brazil's tepid economic performance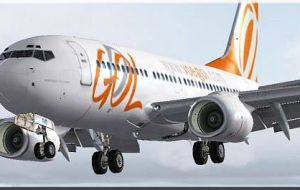 Brazilian airline Gol Linhas-Aereas could continue cutting its domestic network in 2014 if necessary, Chief Executive Paulo Kakinoff said this week, highlighting uncertainty about economic growth.
Gol has forecast a stable outlook for flights in Brazil next year after high jet fuel prices and weak demand forced it to slash its network by about 14% since 2011.
"The forecast of stability (in 2014) should be considered a ceiling. It does not mean we have ruled out future reductions," Kakinoff told investors in Sao Paulo. "A key factor that we are not in a good position to predict is GDP."
Economists are expecting growth of Brazil's GDP to slow to 2.1% next year after expanding 2.5% in 2013, according to a central bank survey published on Monday.
Gol is one of many Brazilian companies bracing for a tough year ahead through layoffs, asset sales and other cutbacks aimed at restoring profitability and bolstering balance sheets.
The struggles for Gol have been magnified by a weaker currency driving up fuel costs and contributing to a net loss of more than 2.9 billion Reais (1.3 billion dollars) since the start of 2011.
Gol's rocky earnings and glum outlook have reinforced concerns about the ability of Brazil's airlines to handle an onslaught of foreign fans during the 2014 World Cup.