UK will insist Gibraltar be included in all EU aviation legislation
Thursday, November 28th 2013 - 21:03 UTC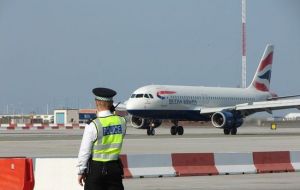 The British Government will refuse to accept a return to the pre-2006 Cordoba Agreement practice of excluding the Gibraltar airport from EU aviation measures, Minister for Europe David Lidington told Parliament and pledged the inclusion of Gibraltar in all EU aviation legislation.
The Minister was asked by Northern Irish Unionist politician, Nigel Dodds what assessment he had made of the 2006 Cordoba Agreement and the commitment of each of the signatures to fulfill their commitments.
The question relates to Spanish efforts earlier this year to have Gibraltar excluded from an EU aviation measure regarding the rules for compensation to air travelers. This was a move clearly at odds with Madrid's commitments under the Cordoba accord.
"The 2006 Cordoba Agreement was a positive step forward in improving relations between the Governments of the United Kingdom, Gibraltar and Spain in respect of Gibraltar," Mr Lidington said.
"We stand by the commitments we made under the Cordoba Agreement, including on Aviation, which is the key aspect of the agreement which Spain is now seeking to resile from."
He added that the issue has been raised with the Spanish Government and the European Commission and that the British Government continues to seek a "mutually acceptable solution."
In related news the reiterated before the Overseas Territories Joint Ministerial council, as in the 2012 communiqué, to work together with OTs to encourage, as appropriate, international sporting associations to recognize the Territories.
"We are pleased that the Gibraltar Football Association has now been admitted as a full member of the Union of European Football Associations, which means that Gibraltar and its club teams can now play in tournaments organized by UEFA. DCMS and FCO will continue to consider all requests for support from Overseas Territories wishing to join international sports federations, managing them as appropriate on a case-by-case basis".