Panama reaffirms support for Argentina's Malvinas claim and promotes 'friendship groups' at congressional level
Saturday, November 30th 2013 - 19:49 UTC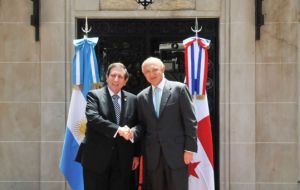 Panama Foreign minister Fernando Núñez Fábrega underlined his country's traditional and committed support for Argentina's sovereignty claims over the Malvinas and other South Atlantic Islands and their adjoining maritime spaces, an issue that was discussed during this week's visit to Buenos Aires, a special guest of his peer Hector Timerman.
"The visit is a clear demonstration of the excellent level of bilateral relations, characterized by mutual respect and the commitment to strengthen democracy, human rights and the promotion of international cooperation and peace", said a release from the Argentine foreign ministry.
The ministers also expressed their commitment to promote 'parliamentary friendship groups' among the two countries congresses, 'which will help to further implement closer bilateral links"
Among other issues the ministers reviewed the main points of the bilateral, regional and multilateral agenda with special emphasis in economic and trade issues and elaborating on fiscal transparency to the interest of both countries.
Finally ministers talked about humanitarian assistance, technical, cultural and education cooperation in the framework of South/South relations and joint cooperation agreements.
To this effect the ministers subscribed a letter of intent referred to administration of disaster risks and international humanitarian aid coordination, following on the Argentine initiative of the so called 'white helmets' contingents for this type of situations.