Argentina's Malvinas claim reaffirmed by Mercosur associate member, Guyana
Monday, December 2nd 2013 - 12:13 UTC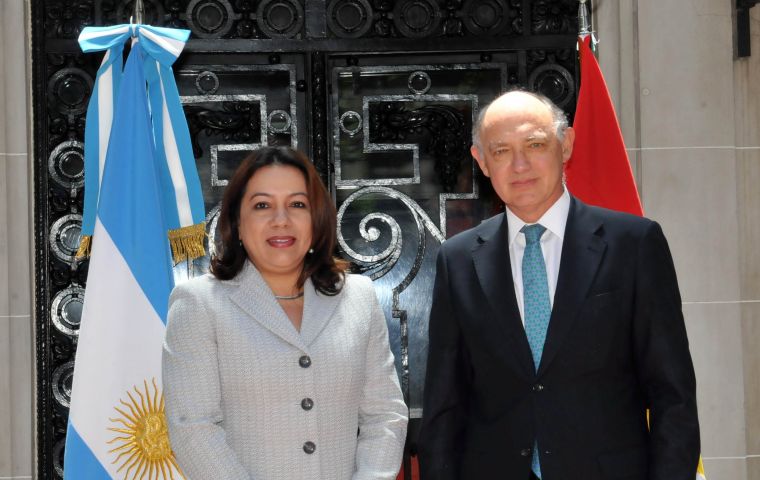 Argentina thanked Commonwealth member Guyana for its strong support in the Malvinas Islands question and underlined the excellent bilateral relations in all fields, during the official visit of Foreign minister Carolyn Rodrigues-Birkett to Buenos Aires.

The visit of the Guyanese official is "in the framework of Argentina's policy of expanding and deepening relations with the Caribbean region was clearly manifested among other actions with the reopening of the Argentine embassy in Georgetown in July 2011", points out the Argentine Foreign ministry release.

The meeting between ministers Rodriguez-Birkett and Hector Timerman and their work teams helped "to review the excellent bilateral relations in different fields: technical cooperation, human rights, and economic and trade issues".

"Minister Timerman thanked the government of Guyana for its strong support in favor of Argentina's position in the Malvinas Islands question", adds the release.

The visiting minister was also honored with the Order of the "Liberator San Martín Great Cross" and held meetings with Argentine Defense and Security ministers to explore possible areas of technical cooperation, as well as with members from the Social Development, Healthcare, Agriculture and Industry departments.

"The presence of the head of Guyana's diplomacy contributed to reaffirm the close relations between Argentina and Guyana which are characterized by shared values and common interests, such as the strengthening of democracy and regional integration in the framework of UNASUR, the Community of Latin American and Caribbean states, CELAC, and Mercosur to which Guyana belongs as an associate members since last July".

It is interesting to point out that Guyana and neighboring Mercosur full member Venezuela have a long-running border dispute, a legacy of colonial times involving the Esequibo a territory of 159,500 km² and which complicated the Guyana independence process in 1966.

The status of the territory is subject to the Treaty of Geneva, which was signed by the United Kingdom, Venezuela and British Guiana governments on February 17, 1966. This treaty stipulates that the parties will agree to find a practical, peaceful and satisfactory solution to the dispute. However Venezuelan official maps include the so-called 'Reclamation Zone' as part of their territory.

But the other big neighbor of Guyana to the south, Brazil supports Guyana's consolidation in the territory in dispute, and is even planning to build a shared huge hydroelectric dam along the border next to the state of Roraima.

This is part of a greater Brazilian plan aimed at integrating the northern states, such as Roraima, not only with the dam but with road communications to the sea through Guyana's Atlantic ports. A border bridge with that purpose was inaugurated in September 2009 by the president Lula da Silva.

In other words Brazil allegedly according to diplomatic information sees the Essequibo as an entrance and exit of goods through the Atlantic for its northern states. So the reactivation of Venezuela's claim is regarded as inconvenient to Brazil's interests.