Argentine government retains majority and initiative in new congress
Thursday, December 5th 2013 - 14:44 UTC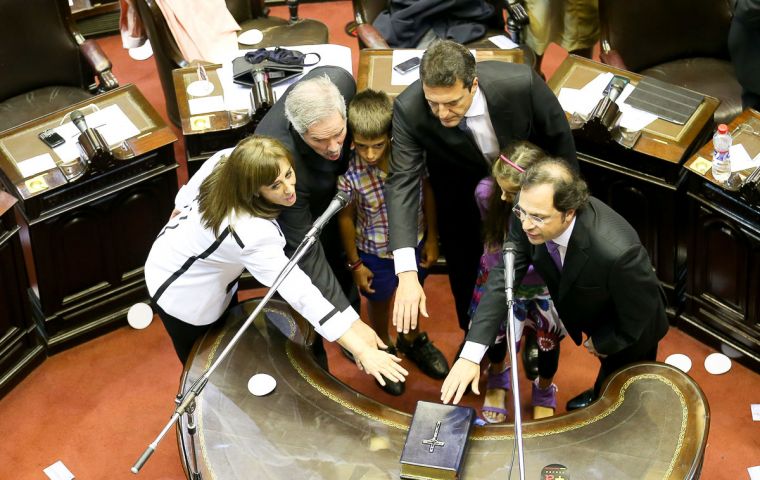 The 127 Argentine Lower House members who were elected in the 27 October midterm election took the oath of office during a ceremony in Congress on Wednesday which ensures the ruling coalition of President Cristina Fernandez the necessary votes for quorum and absolute majority.
The majority is made up of 118 votes from the Victory Front and 14 allies, totaling 132 which will also help to retain the chairs of the committees considered most important for the government.
The Radical party of former president Ricardo Alfonsin emerged as the second strongest group with 39 Deputies plus two allies making it 41, with the Renewal Front from dissident Sergio Massa as third force together with PRO, from the conservative mayor of the City of Buenos Aires, Mauricio Macri.
The Argentine Lower House has 257 members elected on four-year mandates, renewed every in halves every two years. The ruling coalition also managed to retain the presidency of the House with Julián Domínguez, followed by a government ally, second vice-presidency for a member from the opposition Radical party and third vice-president for the dissident Renewal Front of Massa.
The ceremony was unique in that for the first time three members from the extreme left will sit in the Argentine congress as well as a rabbi, Sergio Bergman, former member of the Buenos Aires City legislature and belonging to the conservative PRO.
The newly sworn lawmakers will become official when the inauguration of the new congress, 10 December, a congress which is forecasted to be more active and dynamic since in 2015 Argentines will be voting for president, governors and mayors plus the normal bi-annual renewal of Congress. Several members of the new congress are considered presidential hopefuls.