US November data on jobs triggers optimism in world markets and strengthens the dollar
Saturday, December 7th 2013 - 06:43 UTC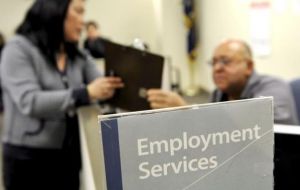 Global equity markets surged and the dollar rose against the Yen after stronger-than-expected US jobs data gave investors confidence the economy is strong enough to withstand an expected reduction in Federal Reserve stimulus.
A total of 203,000 jobs were added in November, beating expectations for 180,000, while the unemployment rate dropped three-tenths of a percentage point to a five-year low of 7%, according to the official release on Friday.
The dollar jumped to session highs against the Yen and stocks on Wall Street surged, with the Nasdaq setting a record intraday high for the year and the Dow and S&P rising more than 1 percent.
The dollar's gains versus the Euro were short-lived, as the euro zone common currency was boosted by rising short-term interest rates a day after the European Central Bank dampened hopes for an imminent easing move.
The euro was up 0.25% against the dollar to $1.3701.
Other data also was bullish for stocks. Consumer spending increased 0.3% in October, more than expected, after rising 0.2% in September.
MSCI's all-country world equity index, which tracks shares in 45 nations, rose 0.81%, while the pan-European FTSEurofirst 300 index gained 0.72% to close at 1,270.38.
The Dow Jones industrial average rose 198.69 points, or 1.26%, to 16,020.2. The S&P 500 gained 20.06 points, or 1.12%, to 1,805.09 and the Nasdaq Composite added 29.356 points, or 0.73%, to 4,062.521.