Brazil expects a 90 million tons soybean crop, making it the world's top producer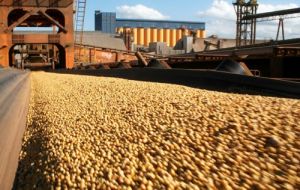 Brazil's government food supply agency Conab forecast record soybean output of 90.03 million tons, near the top of its previous forecast of 87.9 million to 90.2 million tons, as farmers finish planting new fields.
If confirmed, the crop would surpass last season's record 81.5 million tons by 10.5%, and Brazil could overtake the United States as the world's top producer of the oilseed for the 2013/14 crop year.
Area planted with soy expanded by 6.2% from a year earlier as farmers chose the crop over alternatives such as corn, Conab said in its third monthly estimate of the season.
Conab said irregular rainfall earlier in the season in the principal center-west region had given way to a good overall climate as soy plants enter their growth and flowering stage. Soy planting nationwide is about 95% complete.
A caterpillar previously unknown in Brazil, the helicoverpa armigera, is forcing farmers to use more pesticides than usual in most producing regions, raising costs but not yet threatening output, Conab said.
Brazil's wheat crop forecast rose 11% to 5.36 million tons, up from 4.81 million tons in November, due to favorable weather in top producing state Rio Grande do Sul. Conab said the state may have its highest-yielding crop ever, also helped by new pest-resistant crop technologies. If the forecast is confirmed, Brazil's wheat output would increase 22.4% from the previous year, reducing import needs slightly.
In the 2012/13 crop year that ended July 31, Brazil imported 7 million tons of wheat and exported 1.68 million tons. In 2013/14, Brazil will need to import 6.7 million tons but will only export 500,000 tons, Conab estimated.
The agency also forecast a 2013/14 corn crop of 78.8 million tons, in line with the 78.5 million to 79.8 million tons forecast last month.
Brazil's corn output comes increasingly from the second of two annual crops; the second is planted around February after soybeans are harvested. Conab did not calculate a forecast for the second 2013/14 crop and instead used the record 2012/13 second crop output of 46.2 million tons to tabulate its full-year estimate.
The second corn crop could shrink significantly as farmers have little incentive to plant corn due to a national surplus and low prices. Some farmers are instead contemplating a second soybean crop.
For the second straight year, Brazil's soy exports, estimated at 45.9 million tons, will likely surpass domestic consumption of 40.5 million tons, helping to replenish global stocks. Corn exports will likely fall to 18 million tons in 2013/14 from 22.5 million tons in 2013, Conab said.
The market relied on Brazil's record corn crop last season, briefly making it the top global exporter of both soybeans and corn, but the United States is expected to export more corn in 2013/14.
Conab's forecast for the 2013/14 cotton lint crop was left unchanged at 1.6 million tons, up from 1.3 million tons a year earlier, as farmers favor planting the textile amid low corn prices.
Total grains and oilseeds production for the 2013/2014 crop are predicted to increase 4.8% compared with the previous crop, reaching 195.9m tons.