Argentina surprised by EU request to delay another month trade negotiations with Mercosur
Friday, December 13th 2013 - 12:57 UTC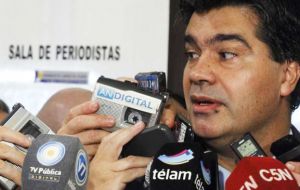 The European Union has asked for a one-month delay in the exchange of proposals to kick off free-trade negotiations with Mercosur, Argentine Cabinet Chief Jorge Capitanich confirmed on Thursday. The news was first reported by Sao Paulo newspapers on statements from Brazilian Foreign minister Luiz Fernando Figuereido.
"Surprisingly, we received a request from the European Union to put off for another month the presentation of the proposals," Capitanich told reporters in his everyday conference at the Casa Rosada presidential palace.
Mercosur four members, Brazil, Argentina, Uruguay and Paraguay, were due to present their proposals to Brussels next week. The proposals involve lists of imports that each side would be prepared to liberalize in talks that have taken almost two decades to get off the ground.
Capitanich seemed to enjoy the situation because Argentina has consistently been accused of acting with reluctance in reaching an agreement and has delayed the elaboration of a joint proposal with the other Mercosur members.
The head of ministers gave no reasons for the delay sought by Brussels, but the Brazilian media said that reliable sources indicated EU 28-members could not agree on a vital issue for Mercosur, agriculture.
Brazil is hoping a free-trade agreement with the EU can be signed next year, 15 years after talks were first launched. Attempts to negotiate a deal have stumbled repeatedly over Mercosur access for European manufactured goods and EU access for Mercosur agricultural products facing high European farm subsidies.
Nevertheless minister Figuereido said Brazil is as committed as ever to achieve the free trade and cooperation agreement with the EU, looking ahead to the block to block agreement structure to which the world is heading. Besides next year Brazil will be losing several tariff benefits from the EU since the country is now described as 'middle class'.
Foreign minister Hector Timerman currently in Rome attending the VI Conference Italy-Latin America hosted by his Italian peer Emma Bonino called for an end to European farm subsidies and other protectionist mechanisms which impede the access "of our farms and agro-industry productions to European consumers".
Timerman also underlined that European corporations facing the fall of deals and profits in Europe have increasingly looked for other opportunities in Latin American markets.
He mentioned that in the last year only, Italian construction companies operating in South America "have managed a similar quantity of contracts as in the whole of the European Union".