Bank of England concerned about potential for a UK housing market bubble
Saturday, December 14th 2013 - 06:26 UTC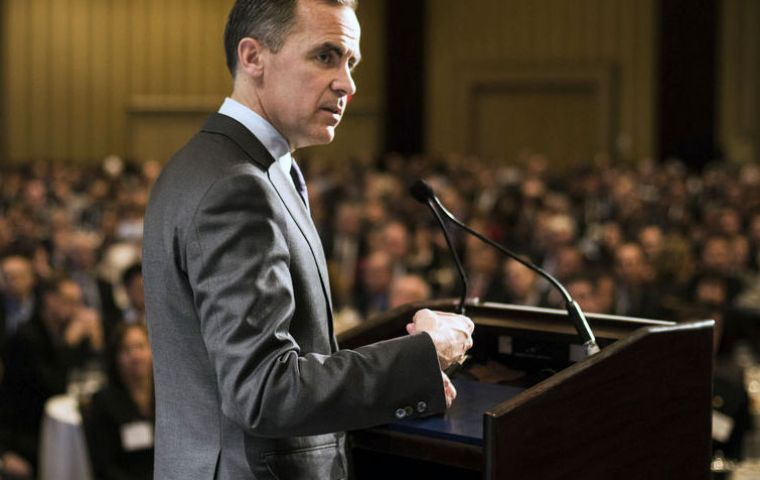 Bank of England governor Mark Carney has said he is concerned about the "potential" for a UK housing market bubble, but will tighten lending requirements if necessary. Meanwhile, a survey suggested house prices will continue "surging ahead".
"There is a history in the housing market of moving from stall speed to warp speed," Mr Carney said. "We want to avoid that."
Mr Carney was speaking at the Economic Club of New York. His speech came as the Royal Institution of Chartered Surveyors (Rics) found that more surveyors expected prices to rise than at any time in the last 14 years.
A separate forecast by mortgage lenders predicted that borrowing would keep increasing in 2014. But the Council of Mortgage Lenders (CML) added an "unbridled" housing boom was "unlikely".
The last time such a clear majority of surveyors expected price rises was in September 1999. "It's no secret that the housing market is on the way up and prices are surging ahead in many parts of the country," said Simon Rubinsohn, chief economist for Rics.
Meanwhile, the CML is predicting that gross mortgage lending will rise from £170bn in 2013, to £195bn next year, reaching £206bn in 2015. In its forecast a year ago, the CML had predicted that mortgage lending would actually fall next year.
But the forecasts suggest that lending will still fall a long way short of the boom years. In 2007, gross lending amounted to £363bn.
In the years after 2015, the CML said it believes that housing market activity "may well ease back of its own accord".
Analysts say this might happen if the Bank of England raises interest rates, since mortgages would become more expensive.
The Office for Budget Responsibility (OBR), an independent watchdog, has said it expects a rate rise to happen sometime in 2015, when it is anticipated that UK unemployment will fall to 7%.
The Bank of England has said it would not consider raising interest rates until the unemployment rate hits this key target.
The CML has said it believes most borrowers will be able to handle any such increase.
"We think there are good grounds to be optimistic that the vast majority of households will cope with a slow but certain transition to more normal interest rates," said Bob Pannell, the CML's chief economist.
Rics said the decision to end the Bank of England's support for mortgages under a scheme for banks called Funding for Lending (FLS) would also have an impact in slowing the market down.
But it believes mortgages are likely to remain relatively cheap for a while to come. "The improvement in wholesale and retail funding markets may mean the impact on mortgages is relatively limited," said Mr Rubinsohn.
The OBR expects house prices to rise by 5.2% in 2014, and 7.2% in 2015.