US insists Obama remains open to a state visit from Brazil's Dilma Rousseff
Tuesday, December 17th 2013 - 02:18 UTC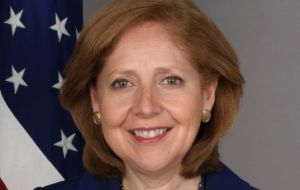 The new US ambassador in Brazil Liliana Ayalde said President Barack Obama is prepared to receive his Brazilian peer Dilma Rousseff. The statement comes weeks after a state visit planned for last October was suspended by Dilma in protest over revelations of extensive US spying of Brazilian communications including the mobiles of the Brazilian leader.
"The visit is not cancelled, it was postponed, if President Dilma proposes an agenda we know that President Obama is open to receiving her, but if the president does not decide (in a reasonable span of time), if President Obama has to continue waiting, I'm sorry but..." revealed ambassador Ayalde in an interview with Folha de Sao Paulo.
The decision to travel to the US, or not, is something that "president Dilma must decide: the invitation for the visit was done, it is open and pending", added the US ambassador.
The spying scandal by the US NSA, as exposed by former staff member Snowden, caused a strong reaction and a rift with Washington which among other things meant that former ambassador Thomas Shannon left the country without the formal farewell from the Brazilian authorities at the Foreign ministry, as is common practice in diplomatic protocol.
In her first interview since arriving in Brasilia ambassador Ayalde admitted that the Brazilian gesture with her predecessor Shannon, was very harsh, and "I'm looking forward to improve relations".
Rousseff suspended her trip to the White House, and before the UN General Assembly blasted the US cyber spying network: Faced with these facts, "it is difficult to have a high ranking official from the US to visit Brasilia", added Ayalde.
Following the suspension of the presidential state visit to Washington, the atmosphere was not the best for high level meetings, but the different technical groups continue working, revealed the US ambassador in Brasilia.