Chilean congress rejects bill imposing harsher punishments for public disorder
Wednesday, December 18th 2013 - 19:03 UTC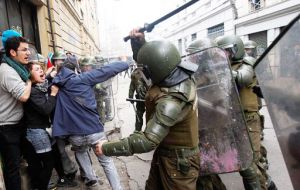 Chile's Lower house ended a two-year debate over the contentious 'Hinzpeter Law' aimed to impose stricter punishments for public disorder, but which critics argued it would also apply harsh penalties to peaceful protesters.
After its final round of parliamentary ping-pong, the divisive Law to Safeguard Public Disorder, a seminal piece of prospective legislation spearheaded by conservative President Sebastián Piñera's administration, was rejected on Tuesday by the lower house.
The law — otherwise known as the Hinzpeter Law after former Interior Minister Rodrigo Hinzpeter — originated in 2011 with the aim to increase punishment for individuals causing disturbances at public protests, especially those covering their faces, or "encapuchados" (hooded).
The Chamber of Deputies passed a stripped down version of the law in August, though the Senate then rejected the legislation in October, diverting its passage to a mixed commission of senators and deputies. The commission sent a revised version of the law back to the lower house this month, after which it was rejected by 51 votes to 43 on Tuesday.
Sebastián Zárate, law professor at Universidad Católica, talked to The Santiago Times about the future of the bill.
"The possibilities now are: first, that the president intervenes to avoid [the rejection of the bill], which he could do except that he does not have much time left [as president] to do so successfully," he said. "And the other is simply that there won't be a law on that matter because the chambers can't agree."
The incumbent Alianza coalition holds a majority in the mixed commission which sent the bill back to the lower house, and following its rejection members of the right-leaning coalition accused the opposition Nueva Mayoría pact of "blocking" the bill in the current administrations final hours.
"The blockage of this legislative agenda shows the Nueva Mayoría's lack of interest in protecting those who guarantee our country's security," right-wing Independent Democratic Union (UDI) whip Gustavo Hasbún said.
The Nueva Mayoría grouping won recent legislative and presidential elections with Michelle Bachelet confirmed as president elect in last Sunday's run-off.
The bill was in response to the massive demonstrations by Chilean students demanding free, higher and better quality education, with repeated protests during the last three years. However many of those marches ended violently infiltrated by the 'encapuchados', radical groups that attacked the police and government property.
By Clémence Douchez-Lortet — The Santiago Times