Falklands oil industry: Buenos Aires rejects UK formal protest; 'Malvinas are Argentine'
Wednesday, December 18th 2013 - 06:19 UTC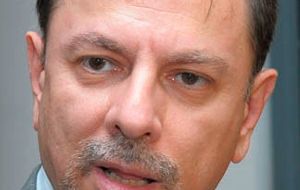 Argentina formally rejected on Tuesday the United Kingdom's 16 December protest against the latest Argentine hydrocarbons legislation which seeks to criminalize oil industry activities in Falklands/Malvinas Islands waters and which London argues is not applicable to the Islands.
Argentine Deputy Foreign Minister Eduardo Zuaín summoned the United Kingdom's ambassador and rejected London's formal protest regarding the latest amendments to the Hydrocarbons bill 26659 which seeks to criminalize individuals and/or companies working to develop the Falklands' oil and gas industry.
Buenos Aires argued that in the Foreign Office protest delivered to Argentina's Commercial Attaché in London "the British side alleges claims over the Malvinas, South Georgia and South Sandwich Islands and the maritime zones surrounding them".
In the brief note delivered to the British ambassador, the Argentine Foreign ministry says that "Law 26.915, which modified Law 26.659 and to which the UK government refers was sanctioned by Congress and has as its applicable environment the Argentine maritime spaces defined as such by the corresponding legislation adopted in the framework of International Law enforcement. The bill sets criminal sanctions for any person, individual or juridical, which has direct or indirect participation in hydrocarbons exploration and exploitation activities in the Argentine continental shelf, as well as the transport or storage, which was not authorized by the competent authority".
Finally and according to the official release from Hector Timerman's office, Deputy minister Zuain once again transmitted the Argentine government's willingness to resume bilateral negotiations to find in the shortest time possible, a peaceful solution to the Malvinas Islands question, in accordance with the multiple declarations from United Nations and other international organizations and forums.
The original protest delivered by the Foreign Office Director for the Americas Kate Smith, points out that Argentine domestic law does not apply to the Falkland Islands, "so this (bill amendment) is a baseless gesture intended to deter legitimate commercial activity. We are confident it will not succeed. It is shameful that Argentina is once again adopting bullying tactics in an attempt to strangle the Falkland Islands economy".
"The British Government fully supports the rights of the Falkland Islanders to develop their hydrocarbons sector for their economic benefit. This right is an integral part of their right of self-determination, which is expressly contained in the International Covenant on Civil and Political Rights. All hydrocarbons activities on the continental shelf of the Falkland Islands are regulated by legislation of the Falkland Islands Government, in strict accordance with the United Nations Convention of the Law of the Sea."