Argentina files complaint with WTO against EU duties on bio-diesel
Friday, December 20th 2013 - 05:57 UTC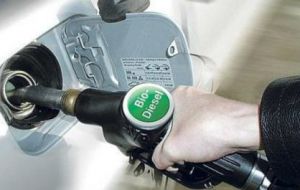 Argentina has filed a complaint with the World Trade Organization against the European Union's decision to impose anti-dumping duties on its biodiesel exports. The duties are "clearly protectionist" and will affect annual sales worth more than 1.5 billion, Argentina's Foreign Ministry said on Thursday on its website.
The 28-nation bloc slapped duties on Argentine and Indonesian biodiesel imports last month, saying producers have access to raw material at prices that are kept artificially low.
The WTO has 60 days to help the parties seek a solution, according to the statement. Failing that, Argentina will be able to request the formation of a panel of experts to resolve the issue.
The EU last month set biodiesel duties at an average of 24.6% for Argentina and imposed similar duties on Indonesian biodiesel.
"Instead of launching reforms to improve competitiveness, the European industry has sought and secured an administrative measure from Brussels, which is totally arbitrary and closes off the European market to competition from efficient biodiesel producers," the ministry said in a statement.
The EU was the main buyer of Argentine biodiesel.