Stiglitz says China demand for better diet will keep Mercosur countries busy
Friday, December 20th 2013 - 06:48 UTC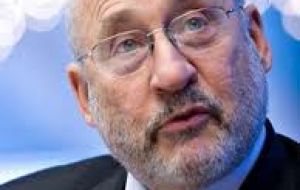 The commodities-exporting economies of Latin America will continue expanding in the years ahead, driven by demand from China despite slower growth in its economy, Nobel Prize-winning economist Joseph Stiglitz said during a conference round in Uruguay.
Latin America is reliant on demand from trade partners in Asia, especially China, as well as in Europe and North America.
Stiglitz, a former chief economist for the World Bank, said China's changing diet will keep the tap open for Latin American raw materials even as its economy slows to about 7% growth from 9%.
"That's still enough to keep Latin America growing," the Columbia University professor said adding that ""I'm hopeful that even with China's growth going somewhere slower, the demand for commodities will continue because their incomes have risen and the diet is changing, you Latin Americans will benefit from that."
Mercosur members Brazil, Argentina, Paraguay and Uruguay economies depend on agriculture. The region is a top supplier of soybeans and other grains to China, where they are turned into meal to feed cattle.
China's emerging middle class has discovered a taste for beef steak that is expected to continue despite slower growth in the country's GDP and this has been confirmed by growing volumes of imports from Australia, New Zealand but also Uruguay.
Latin America will pick up its pace of economic growth next year to expand between 3.2 and 3.3% as the global economy continues to strengthen, Inter-American Development Bank President Luis Alberto Moreno said late last month. In 2014 Latam grew around half a percentage point higher than the projected 2.7 to 2.8% expansion for this year, Moreno said.