Argentina imposes 'voluntary' price agreement on 200 supermarket staples
Saturday, December 21st 2013 - 05:41 UTC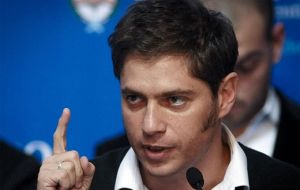 Argentina has negotiated a new inflation-fighting attempt: regulating prices of nearly 200 supermarket staples, scheduled to go into effect January 1, the Commerce Department said Friday. The deal was reached with different chambers and pretends to keep prices unchanged for twelve months.
The move echoes a 60-day price freeze on mass market supermarket items last February that failed to slow the country's heavy inflation.
"We agreed on a basket of major consumer products," Argentine Commerce Secretary Augustin Costa told reporters at a press conference, reporting on the accord between the Economy Ministry and the big supermarket chains and their suppliers.
So far, some 175 products, including meat, fruits, vegetables, beverages, cleaning and sanitary products are on the list, which should ultimately grow to 200 items.
Costa said the list represents two-thirds of what a modest household consumes. He said the government would ensure prices are marked in accordance with the agreement.
Chinese supermarkets -- which are common, especially in urban areas -- have not signed the agreement, though the government said it hopes to include them soon.
Unlike this year's two previous price freezes, this new measure affects suppliers as well as supermarkets. The year-long freeze will take effect on Jan. 1, and prices may be revised during the course of 2014.
"It's basically a voluntary price agreement between the national government and the sector's main actors," Economy Minister Axel Kicillof said. "It's a voluntary agreement on prices because we know that controls imposed on the private sector and price freezes imposed on the private sectors aren't successful."
Most of the goods affected by previous price-freezes were not sold in supermarkets.
The main supermarkets operating in Argentina, Latin America's No. 3 economy, include units of Chile's Cencosud , France's Carrefour and the United States' Wal-Mart Stores Inc.
Argentina has seen soaring inflation over the last several years, though the IMF accuses the country of underplaying it. Official estimates of inflation are around 10%, while private institutes put the figure at around 27%. Argentine inflation is Latin America's second-highest after Venezuela's.