Falklands' piece published in Uruguay, infuriates Argentine ambassador
Saturday, December 21st 2013 - 05:45 UTC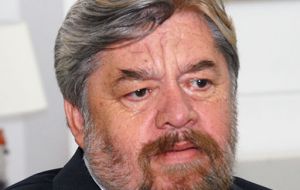 Argentine ambassador in Montevideo complained to Uruguay's leading newspaper over an article published in a features magazine referred to the Falkland Islands "Wind from the South" which "completely ignores the international community, and Uruguay's, struggle against colonialism".
Ambassador Dante Dovena points out in a letter addressed to the Director of the magazine Paula (belonging to El Pais), that in the five page-article of its December edition there is not one mention of Argentina's claim over the Malvinas Islands and asks if the publication acted on "political manipulation or ignorance".
According to the ambassador's letter the five page article pretends to present a picture of the Malvinas Islands with serious historic errors and at the same disregards and ignores the fight of the international community, and even of Uruguay, against the scourge of colonialism.
"To write about Malvinas and not mention the painful dagger of colonialism is like writing about South Africa in the eighties and not include any mention to apartheid. It's not a detail, it's the substance, the essential".
The article from the magazine Paula, credited to Yelly Barrios, 'abounds in trivialities such as a chocolate store or the extended leisure of playing darts, but decides there is no space to mention not even once Argentina's sovereignty claim, supported by the international community, nor quote by mere chance the name of Malvinas Islands, nor refer, even if briefly about the militarization of the South Atlantic, rejected by all the region and international forums'.
Likewise there are no context explanations, "just a script which seems to have been written on contract from an anachronistic colonial empire"
As to the history of the Malvinas Islands, the writer ventures into the so called "foundational process" of the Islands and immediately quotes the case of a family that arrived in 1842. "Maybe she thought it was not necessary to mention that only nine years before the Argentine population living peacefully in the Islands was expulsed violently by the English navy and that since then, for over 180 years, Argentina and the international community are demanding a negotiated settlement".
Thus: "Political manipulation or ignorance? There is no other way to understand such a piece".
Hopefully in the future the articles from the magazine referred to the Malvinas issue or other issues in which a universal cause is at stake, "such as the struggle against colonialism, will adopt a responsible, precise and committed approach".
Signed Dante Dovena, Argentine ambassador.
The piece which so exacerbated the Argentine ambassador describes the Falklands as "any village in Great Britain", had it not been for geography and has an ample display of photos. It even mentions that in local stores you can find apples and oranges imported from Uruguay.