Argentina successfully launches rocket; "program to recover defense capabilities"
Monday, December 23rd 2013 - 13:27 UTC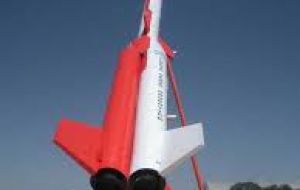 Argentina successfully launched a research rocket as part of its space program, the Defense Ministry said on Friday. The launch took place on Wednesday from Chamical, in La Rioja province, 880 km northwest of the capital.
The rocket was "launched through the joint efforts of the Air Force, the state-owned military manufacturing company, universities and companies related to the field," Defense Minister Agustin Rossi said.
The test is part of the "Experiencia Centenario" program to celebrate the one hundred years of Argentina's Air Force "This launch is another step toward the recovery of scientific-technological capabilities for defense," Rossi said. Describing the launch as "a milestone," the minister said.
He added that "we have recovered a capability that is of the utmost importance to us."
Argentina's Air Force had said the rocket is expected to reach a maximum speed of 3,978 km per hour "until it runs out of fuel", then continue its non-propelled ballistic flight, and will later separate from its payload when it reaches an altitude of 49,000 meters. When in descent phase a parachute system ensures a soft landing and the recovered module will mark the beginning of analysis of all data collected.
The objectives of the project "are to test-value human resources involved in the development of applicable systems for future projects and the recovery of production capacity of critical components necessary for this type of vectors", said the Air Force in a brief release.
Argentina has launched three rockets in five years after a 30-year suspension of research and development, according to Rossi. The first one was launched in 2009 from Serrezuela, province of Cordoba, and the second one was launched in 2011, also in Chamical. Argentina is expected to launch a Gradicom III rocket in 2014. In 2015 plans are to launch the FAS 1500 rocket, a suborbital vehicle that can carry a payload of 200 kilos to 350 kilometers altitude and will take off under the name of Phoenix.
The institutions named as participating in the project are Aeronautical University Institute; the Applied research centre from the Engineering School at the University of La Plata; the Engineering school from the Comahue national university and the Argentine Association of Space Technology.
The mounting of the 4.6 meters long, 28 centimeters diameter rocket weighing 288 kilos was done at Air Force dependencies in Cordoba.
The 'Experiencia Centenario' also takes place on the twentieth anniversary of the cancelling of the Argentine missiles program under the code name of Project Condor, which was started following the Falklands conflict on 1982 with the support of Egypt and Iraq. However under pressure from the United States the project which was being developed at the Falda del Carmen, now headquarters of the National Committee of Space Activities, was abandoned in 1992/93 under the administration of then president Carlos Menem.