Blackouts continue in Argentina while government keeps threatening power distributors
Friday, December 27th 2013 - 05:28 UTC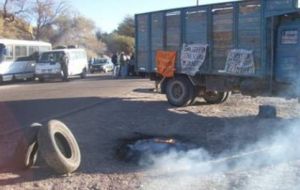 Blackouts continued in several neighborhoods of Argentina's metropolitan Buenos Aires area while protests increased including pickets in highways, attempts to set on fire power distributors offices or kidnap power companies' officers while the only resource from government has been to blame companies and threaten to take over utilities.
In Buenos Aires there was some brief relief with late Thursday evening showers after a full day of 38 degrees Celsisus. In the north of Argentina in the province of Santiago del Estero where there was a record 47 degrees two people died and in downtown Buenos Aires some hospitals have warned that at peak consumption hours they can't guarantee air conditioning or even some of the support equipment including the blood banks.
In other areas power has been off for over a week and water supply is running short.
People have reacted with pickets in highways, bomb fires in corners and constant banging of pans, with media giving the situation extensive coverage.
In other neighborhoods rail lines were interrupted and a power company station was set on fire but was quickly dominated. In Rosario to the north a group of people tried to kidnap staff from the power companies.
But the situation overall is that until the heat wave is not over and if temperatures rise above 32 degrees Celsius there is no way of cutting back on blackouts. An estimated forty to fifty neighborhoods are suffering the consequences of the collapse, which meant many Argentines spent Christmas without power, or even water, not to say fresh drinks.
Neighboring Uruguay has all its thermal and hydroelectric capacity working for Argentina but it's not enough.
However Edenor one of the two main power distributors in Buenos Aires said that "we have almost no clients without electricity" and there are 'no neighborhoods affected, "just specific cases". But this was quickly dismissed in interviews on live television
In the city of Cordoba, central Argentina, the provincial power company blamed customers for the blackouts arguing that companies "can't anticipate a significant increase in demand" if consumers 'don't inform us of the electric powered appliances they have incorporated".
Cabinet chief Jorge Capitanich was again on the air to blame distributors Edenor and Edesur for the lack of power services and insisted that the 'nationalization ' of utilities' concessions is one of the government's "work hypothesis".
Capitanich revealed that another option under consideration is to transfer control of the utilities to the province of Buenos Aires and the City of Buenos Aires.
Federal Planning Minister Julio De Vido promised that residents who have suffered power outages would be properly compensated, while assuring that energy suppliers would face financial sanctions.
"Every company will present their figures and there will be a repayment system, a form of economic compensation independent of punishments, and fines to the company" said De Vido.
The minister added that the cuts were not caused by a lack of power supplies in the country.
"There is no shortage of energy, there is a distribution problem," he affirmed.
De Vido also appealed to consumers to moderate there use of electrical appliances, in the face of scorching hot weather in Buenos Aires and other provinces.
"At 38°C there is a climate crisis, we have to be responsible with energy use, using appliances rationally so that power returns to those who do not have it."