Inflation in Argentine provinces expected to reach over 30% at the end of 2013
Friday, December 27th 2013 - 04:52 UTC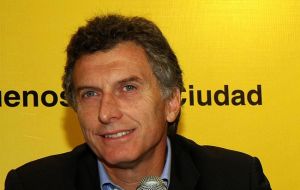 Consumer prices in the Argentine province of San Luis climbed 2.9% in November over October, 27.8% over December 2012 and 29.3% in the last twelve months, according to the provincial stats office. San Luis is ruled by dissidents from the ruling Peronist coalition headed by President Cristina Fernandez.
"The item with greatest incidence on the index was Food and Beverage, which climbed 4.3%, pushed by fruit prices (13.3%); infusions, bottled water, bakery, beef, chicken, sausages, cooking oil alcoholic and non alcoholic drinks, among others" said the San Luis Stats and Census office. However there was a slight drop in legumes and vegetables because of the season.
Nevertheless for the lowest income bracket of the population, "the food item has accumulated so far this year 30.7% and 31.5% in the last twelve months".
Transport was up 1.9%; housing, 3%; clothing, 1.9% and household appliances, 2.3%.
Meanwhile in the City of Buenos Aires, another stronghold of the opposition, inflation in November was 2.4% over October and 26.2% in the last twelve months with food up 3.1%; transport, 4.4%; hotels and restaurants, 3.5% and 2.1% in housing.
Regarding December things look even more complicated since independent economists and consultants are estimating a floor of 3% which would take annual inflation to 29%.
Regarding December forecasts are even worse particularly since there is a round of salary negotiations with the strongest unions, and following the police conflict with widespread looting, it is anticipated that the floor for the discussions is expected to take off at 35%.
For the government of President Cristina Fernandez stats office Indec, inflation in November was 0.9% over October; 9.4% since January 2013 and 10.5% in the last twelve months.