Over 10m Argentines live in poverty conditions, says Catholic University
Friday, December 27th 2013 - 00:05 UTC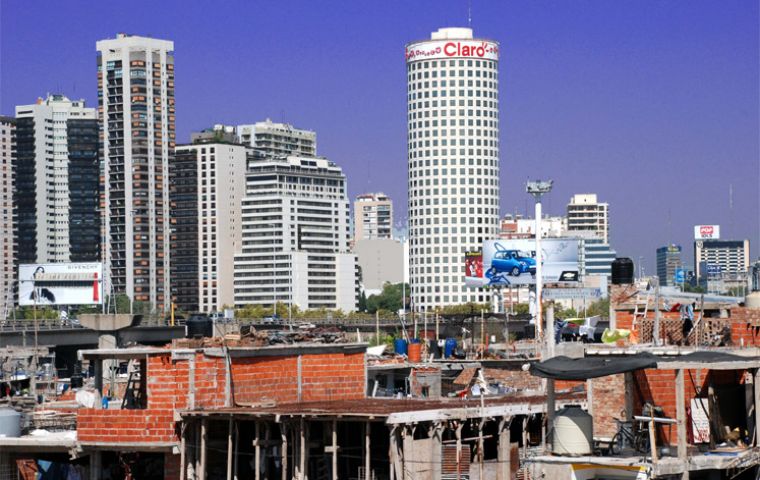 Over a quarter of the Argentine population live in poverty conditions, with no formal job, poor quality education, dreadful housing and insufficient healthcare, according to the latest paper from the Buenos Aires Catholic University Social Debt Observatory.
The paper, "Structural heterogeneous factors and standing social inequalities" also reveals that from 2004 to 2010 the social gap between life conditions for the middle class and the most vulnerable has increased considerably.
The Social Debt Observatory considered one of the most prestigious and reliable in Argentina says that half of Argentine workers have a precarious job or 'indigence jobs' (i.e. collecting cardboard and paper) and over half of the upcoming adult generations is excluded from the social security system.
Besides three million people are mal nourished, and one in ten houses does not have running water and three out of ten is not connected to sewage network.
Furthermore 37% of young adults has not finished high school and 20% are the 'ni-ni' category of 'no job, no school'; 12% of children aged 5 to 17 are involved in some kind of job and two out of ten need government assistance, with 23.5% needing a program of standing social assistance.
Despite government assistance efforts one out of four of these 500.000 households does not have access to the real value of the basic food basket.
"Structural marginality did not improve in Argentine despite all the years Argentina expanded at 8% annually. Structural poverty has crystallized as has the impossibility of achieving basic levels of social integration and well-being", according to Agustin Salvia head of the Observatory research.
"Half of the 2002 poor are no longer poor, but the levels previous to the crisis have worsened. Most of the social conflicts have to do with inequality and unsatisfied expectations. Crime, robbery, looting are part of a social decomposition context for people who believe the system does not include them and the distance with the well-off is ever widening".
Because of inflation poverty is advancing and so is the stagnation of formal employment. "In 2013 it climbed to over 25%", says Salvia.
In 2003 the poverty rate in Argentina was 50.9% of the population and in 2012 it was down to 24.5% according to the Observatory stats (officially it's down to 5.4%). This means that 30% of Argentines, if we include the 4.9% of indigence, was unable to climb out of the situation despite the strong economic growth of almost a decade. In this context government social assistance was up to 15.3% of GSP in 2012, from 10.3% in 2003.
However even when a significant percentage of those jobless in 2002 rapidly reinserted in the production system, since they had the skills, as factories and corporations again took off. But those who have been unable to integrate are those at the basis of the pyramid with little or no education, no skills and little work habit.
For the report based on figures from another prestigious institution FIEL, the Latin American Economic Research Foundation, a household in Argentina needs 3.900 Pesos (600 dollars) a month to remain just above the poverty line and of which 2.000 Pesos to buy food. This compares with the official and much discredited Indec government stats office, which puts the poverty line at 1.750 Pesos and monthly food purchase at 769 Pesos.
Argentina has a population of 40 million which means that at least 10 million live in poverty and increasingly marginalized as the system allegedly has let them down.