Uruguay's new Economy minister pledges continuity of current market friendly policies
Friday, December 27th 2013 - 05:32 UTC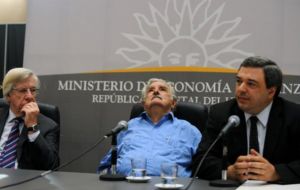 Uruguay will continue to consolidate its market friendly policies, pledged incoming Economy minister Mario Bergara, 48. on taking office on Thursday surrounded by President Jose Mujica and Vice president Danilo Astori. He replaced Fernando Lorenzo who was forced to resign following a major scandal involving the failure and shut down of the country's flag air carrier Pluna.
"We must consolidate the emphasis of this economic policy which undoubtedly has a clear continuity since 2005 when the Broad Front coalition took office", said economist and US educated Bergara
"We have a great challenge ahead but the new economic team will keep the overall direction and course", pointed out Bergara, who until today was chairman of Uruguay's central bank.
"This policy is not new, it has been implemented since 2005 and has helped 25% of Uruguayans climb out of poverty, ordered government's finances, strengthened the banking system and ensured a path of sustained inclusive growth", insisted Bergara who is identified with Vice-president Astori, an orthodox economist and the first Economy minister of the ruling coalition 2005/2010.
Apparently Mujica and Astori at a meeting at his home agreed on the new economic team and central bank officials, following the resignation of Lorenzo who last Saturday was sentenced for 'abuse of power' regarding the liquidation of bankrupt Pluna.
Three of the private associates of the defunct airline have been jailed and the magistrate wanted Lorenzo and banker Fernando Calloia, head of Uruguay's largest government bank, to join them for forcing the approval of a 13 million dollars guarantee document for the auctioning of the airline's Canadian manufactured Bombardier aircraft.
The defense of Lorenzo and Calloia argued that the crime 'abuse of power' is unconstitutional and this must be decided by Uruguay's Supreme Court which could take several months on a ruling.
Mujica and the ruling coalition have given all their support to Lorenzo who was praised for his ethical integrity and honesty as well as for his 'brilliant performance' as minister.