Falklands historic events commemorated by Atlantic Patrol HMS Richmond
Sunday, December 29th 2013 - 08:40 UTC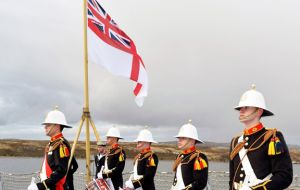 As part of her Atlantic Patrol Task (South) deployment, HMS Richmond has visited San Carlos Water, the scene of the amphibious landings during the Falklands War of 1982. The site is also the final resting place of HMS Antelope which was tragically lost on 23 May 1982.
After anchoring near Ajax Bay, the Ship's Company of HMS Richmond gathered on the flight deck to conduct a Remembrance Service.
On giving a reading at the memorial service, Engineering Technician (Weapon Engineering) Scarlet Johnson said: "It was incredibly overwhelming and a great privilege to be able to honor our predecessors who sacrificed their lives during the War."
Members of the ship's company proceeded ashore, visited and carried out minor maintenance on the memorial to HMS Ardent and HMS Antelope, both Type 21 frigates which were sunk during the conflict. Other members of the Ship's Company went ashore to meet with locals from the settlements in Port San Carlos, Wreck Point and Ajax Bay.
Surgeon Lieutenant Ruth Guest, the Ship's Medical Officer visited the HMS Ardent and Antelope Memorial, but was particularly taken by the Ajax Bay refrigeration plant which was used as a field hospital during the 1982 conflict.
She said: "It was truly humbling to walk around the Ajax Bay memorial and very poignant for me as the ship's doctor to visit the site of 'The Red and Green Life Machine', the site of such skilful and heroic medical practices to look after men from both sides of the conflict."
Earlier in the month, on Sunday 8 December, whilst anchored off Stanley, HMS Richmond's Commanding Officer, Commander Robert G Pedre, and members of the ship's company attended a Service of Thanksgiving and commemoration on the anniversary of the 1914 Battle of the Falkland Islands.
Known in the Falklands as Battle Day, the focus of this public holiday is the annual Service of Commemoration followed by a wreath laying at the memorial overlooking West Stanley.
Islanders gathered alongside members of all three Services stationed at nearby Mount Pleasant Complex, to remember the Royal Navy's victory over a squadron of German ships under the command of Vice-Admiral Graf Von Spee, 99 years ago.
Commenting on the visit, Commander Pedre said: "It is a great honor for HMS Richmond to participate in this poignant ceremony remembering the sacrifices of our illustrious forebears 99 years ago today.
"The Battle of the Falklands not only ensured the security of these islands, but made a vital contribution to the unimpeded flow of trade to the United Kingdom and our allies. Likewise, today's Royal Navy continues to ensure maritime security, critical to our nation's safety and prosperity."