Falklands' war Regan/Thatcher fake tape had CIA and MI6 in disarray for months
Friday, January 3rd 2014 - 05:56 UTC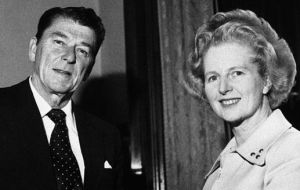 A fake tape of Ronald Reagan and Margaret Thatcher arguing over the Falklands War had the British secret services scrambling to identify the culprits, archive files released Friday showed. The tape, supposedly a telephone recording of then US president Reagan and the British prime minister, was anonymously sent to several Dutch newspapers during the 1983 UK general election.
The transcript claimed the US president urged Mrs. Thatcher "to control yourself", to which the Iron Lady responded: "We have to use violence (on Argentina). At this moment it is being used to punish them as quickly as possible."
The staccato exchange allegedly began: "R: I urge you to control yourself. That's absolutely necessary, for otherwise the area will be devastated.
"T: Listen, our goals are completely different.
"R: Why was the Belgrano destroyed? You gave the orders to do it. The Argentines were leaving at the time."
The tape was constructed by cutting up and reassembling sound clips of the two leaders.
The British punk-rock band Crass admitted making the tape -- but that was only after it was taken seriously enough that the CIA and Britain's MI6 had sought to establish whether the Soviet Union or Argentina was behind it.
A letter sent by a Foreign Office adviser to Thatcher informed her of the tape and who MI6, (Britain's Secret Intelligence Service, SIS), thought was behind it.
It said the British embassy in The Hague had passed the tape to London.
"This looks like a rather clumsy operation. We have no evidence so far about who is responsible," it said.
"SIS doubt whether this is a Soviet operation. It is possible that one of the Argentine intelligence services might have been behind it; or alternatively it might be the work of left-wing groups in this country."
Another Foreign Office briefing, on April 6, 1984 said neither British intelligence or the CIA thought the Soviet Union's KGB secret service was behind it, "but further analysis would have required a disproportionate commitment of resources which even CIA felt unable to contemplate".
The papers have been declassified after 30 years in the UK National Archives.