Brazilian opposition ready to present attractive, balanced presidential ticket
Monday, January 6th 2014 - 06:48 UTC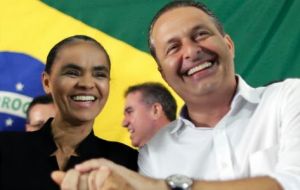 Former Brazilian environment minister Marina Silva has agreed to run for vice president in October elections on the presidential ticket of Eduardo Campos, the governor of Brazil's Pernambuco state, O'Globo newspaper reported. Silva, who will make her intention publicly known by mid-February, could announce her candidacy at a January 17 meeting of leaders of Campos' Brazilian Socialist Party (PSB).
 O'Globo did not cite sources for its story. Silva and Campos, two of the country's most popular opposition leaders, surprised many when they said in October they would form an alliance but refused to say which of them would stand for president if they made a bid.
Pollsters say their decision to team up could form a serious challenge to President Dilma Rousseff's hopes of re-election.
O'Globo reported that in exchange for Silva's pledge to run alongside Campos, his PSB party had agreed to end its support for the re-election of Geraldo Alckmin of the centrist Brazilian Social Democracy Party (PSDB) as governor of Sao Paulo state.
Sao Paulo is Brazil's richest, most-populous and most industrialized state. Alckmin is also a former presidential candidate.
The PSB has been working with the PSDB to create a wider electoral alliance in several states in hopes of boosting their chances to win governorships and the presidency in October.
While Campos has worked closely with Rousseff and her predecessor, Lula da Silva, his growing criticism of the government's economic policies has won him increased support from business people, despite his party's socialist roots.
Silva has won wide backing from more left-leaning Brazilians who believe Rousseff and Lula da Silva's Workers' Party has abandoned its environmental legacy in favor of economic development of Brazil's Amazon and other dwindling ecosystems.
She was placed third in the 2010 presidential election that saw Rousseff elected and enjoys credibility among younger and better educated voters. In a November 30 poll of voting intentions by Brazilian research group Datafolha, Rousseff led with 47% while Campos, who remains largely unknown outside his home region, came in third with 11%.
In second place with 19% was PSDB candidate Aecio Neves, a senator, former governor of Minas Gerais state and grandson of a former president, Tancredo Neves.