Record Spanish incursions into Gibraltar waters in the last twelve months
Monday, January 6th 2014 - 19:13 UTC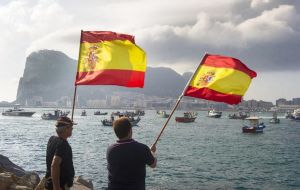 Spain has made a record number of illegal incursions into Gibraltar waters in the past year, new figures show. The Sunday Telegraph said the figures capped a 12 month period in which relations between the Rock and Madrid "reached their lowest ebb since the rule of General Francisco Franco."
Vessels flying the Spanish flag intruded into Gibraltar's sea limits 446 times last year, figures obtained by The Sunday Telegraph reveal, almost double the tally for 2012, and the worst year on record.
"General Franco blockaded Gibraltar, but he never presided over as many incursions into its waters," the newspaper noted.
"Such incursions are a misguided attempt to maintain and assert Spanish claims that the waters are Spanish," a spokesman for the Foreign Office told the UK newspaper.
"However, we have always been confident of UK sovereignty over British Gibraltarian Territorial Waters."
"Although unlawful Spanish incursions are a violation of sovereignty, they are not an armed attack and are not a threat to UK sovereignty."
"They do not weaken or undermine the legal basis for British sovereignty. Nor do they change the fact of UK and Gibraltar jurisdiction."