JP Morgan will pay 1.7bn dollars penalty related to Bernard Madoff's fraud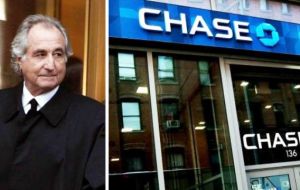 JPMorgan Chase & Co will pay a 1.7 billion dollars penalty to settle charges by US federal authorities that the bank failed to report suspicious activity relating to Bernard Madoff's Ponzi scheme.
The bank had violated laws requiring that it monitor customer activity for money laundering in the Madoff case, authorities have said.
The deal includes a two-year deferred prosecution agreement and settles outstanding probes by two bank regulators into failures in JPMorgan's anti-money laundering policies. The bank also agreed to improve its controls.
As part of the deal, the bank agreed not to apply for a tax deduction or tax credit for the 1.7 billion payment. The funds will go to the victims of Madoff's fraud, according to Tuesday's announcement.
JPMorgan is admitting it had failed to raise the alarm about Madoff's activities to a bank regulator, even though bankers in more than one area of its operations had identified inconsistencies in Madoff's behavior and his fund's returns.
Madoff, through his hedge fund operation, Bernard L. Madoff Investment Securities LLC, was revealed in December 2008 to be the operator of a massive Ponzi scheme. Convicted in 2009 of defrauding thousands of investors, he is serving a 150-year prison sentence.